No sex please, we're Twit-ish. Vine bans non-educational nudity
Lady Madonna with the big boobies? Fine. Porn? HELL NO!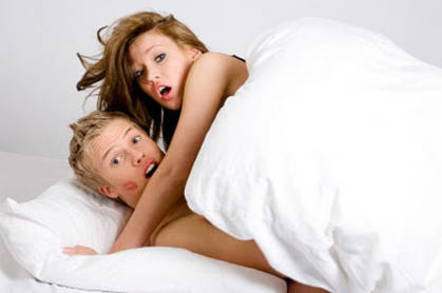 A six second sexual encounter is bound to disappoint and annoy. So it's little wonder that the teeny-weeny video service Vine has called an end to them.
The Twitter-owned video service has decided to weed out filthy content that is "not a good fit for our community".
This basically means any sort of nudity or sexual content meant to arouse is now off limits.
Breast-feeding is still allowed, as is educational or artistic nudity.
Twitter has already reacted badly to the porn ban, with some grumblers warning this was "the end of Vine".
In a blog post, Vine said: "For more than 99 percent of our users, this doesn't really change anything. For the rest: we don't have a problem with explicit sexual content on the Internet –– we just prefer not to be the source of it."
Vine is the cinematic equivalent of Twitter, allowing shorteurs to make six second movies which then loop endlessly.
As with everything on the internet, it was quickly adopted by chubby onanists, amateur porn stars and anyone else who wanted their private parts to be made public.
But no more. In its updated rules, Vine explicitly set out which content is "okay or not okay to post":
"You may not post content that is pornographic or sexually explicit—even if it is of yourself or marked as sensitive."
Vine also updated its terms and conditions to warn that users should not post "pornographic or sexually explicit" videos.
Only last week, one horny young man used Vine to produce a video of him having sex with a Hot Pocket, a hideous American foodlike unit we'd compare to a prefabricated Cornish Pasty.
Here's what Twitter had to say about the ban:
So nudity is banned from #Vine ??? I'm deleting it. 😤 it was the only place I could show naughty videos. So F.U. & Instagram too. F.N Prudes

— IG: missheart2u (@chanellheartxxx) March 7, 2014
Vine getting rid of nudity? That'll stop a lot of accounts :) the blue rinse bible bashing lot will be on it now. Flagging any males

— adam mcquade (@AdamMcquade) March 7, 2014
Welp, Vine just said no to nudity. I just found a boatload of SIN this morning on Vine. I now have no reason to be there. Peace, Vine.

— Wise Math (@wisemath) March 7, 2014
Vine will no longer allow nudity in their videos. In other news, Vine no longer exists.

— thestndrd (@thestndrd) March 7, 2014
'Educational nudity'... So If I write 1 + 1 = 2 on my boobs we're grand? http://t.co/su20qugHFO

— Michelle Hennessy (@michellehtweet) March 7, 2014
So what will you be using Vine for now that porn has been deemed "not OK"? ®