I NEVER DONE BITCOIN, says bloke fingered by new Newsweek
Mag claimed 64-year-old chap living near LA created crypto-moolah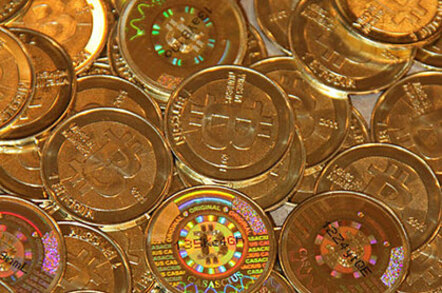 A father of six living in Los Angeles County has denied he is Bitcoin creator Satoshi Nakamoto following a Newsweek cover story that claimed otherwise.
After a bizarre series of events that included a car chase and a pack of reporters staking out the chap's house, Dorian Prentice Satoshi Nakamoto, 64, exclusively told the Associated Press that he had nothing to do with the invention of the crypto-currency.
According to AP, Nakamoto said that he only heard of the digital cash three weeks ago when his son said he had been contacted by Newsweek.
Satoshi Nakamoto chased by reporters, denies founding Bitcoin http://t.co/Ns8EeBQAIj @AlSchaben gets the photo pic.twitter.com/FD1q63Nfqc

— LA Times Photography (@latimesphotos) March 6, 2014
Earlier in the day, the dad, of Temple City, California, been named by the magazine as the "face behind Bitcoin": the article breaking the "news" included details on Nakamoto's past workings with the defense industry and his past studies in physics and mathematics. He told the AP that the personal details in the story were "mostly" true but denied being the inventor of Bitcoin.
Neither Newsweek nor the story author Leah McGrath Goodman have responded to a request for comment on the AP report.
The interview came as press crowded outside Nakamoto's California home and later the Los Angeles offices of the AP. Earlier in the day, Nakamoto had singled out an AP reporter and requested an immediate lunch meeting.
After an informal "car chase" between Nakamoto and various members of the press and a failed attempt to have lunch at an LA-area sushi restaurant, Nakamoto and wire reporter Ryan Nakashima retreated to the AP offices where a two-hour interview took place.
Nakamoto now in DTLA. Told me in elevator that he's not involved with #Bitcoin, engaged in weird car chase "all for a free lunch."

— Andrea Chang (@byandreachang) March 6, 2014
At this point it would be foolish to jump to conclusions: while the Newsweek story could have missed its mark, the creator of Bitcoin – whoever he or she is – has by public record amassed a $400m stash in the virtual currency which is ample reason to deny any involvement. Indeed, the magazine's article included a quote from Dorian Nakamoto's brother warning: "He'll deny everything. He'll never admit to starting Bitcoin." ®
Sponsored: What next after Netezza?