Bugger the jetpack, where's my 21st-century Psion?
Forgotten form factors #2: The handheld PC
Decline and fall
Finally, in 1999, HP dropped the old LX name and switched from Hitachi SH3 processors to the now well-established ARM for the last generation of HP handhelds. The HP Jornada 720 was a Psion on steroids, boasting a 206MHz StrongARM, an onboard 56K modem, a third card slot for Smartmedia – and despite all this, dropped the baby weight for a muscly 34mm and 515g.
But steroid abuse can lead to bloating, and despite being half a kilo, the lardy Jornada only delivered nine hours of battery life – under half the Psion's. The simple laptop-style clamshell design also meant that the HP tended to topple over backwards if you tapped the touchscreen firmly, whereas Psion's conjoined screen and keyboard slid down as you opened the device into a relaxed, stable slouch – at the price of a fixed screen angle.
HP bowed out of the handheld market in 2002 with the Jornada 728, which doubled the RAM to 64MB and changed the colour scheme... but this wasn't quite the end of the palmtop PC.
The last gasps of the handheld PC were two Japanese devices in 2003. NEC's MobilePro 900c slightly pushed the "handheld" size limits, being 246mm (9.7") wide with an 8.1" screen and weighed a hefty 830g – around the size of the Sony Vaio-P netbook – although it still had the basic 640x240 screen resolution. As such, the crown for the highest-spec handheld probably belongs to the Sigmarion III from Japanese mobile telco NTT DoCoMo.
The Sigmarion III was a sleek 21mm thick, although it was about 2cm wider and longer than a Psion 5MX and weighed 125g more. In there were 64MB of RAM, an 800x480 screen and a 400MHz XScale PXA255 ARM chip, along with CF and MMC/SDIO slots. The screen was a tad cramped due to two columns of touchscreen buttons down the left and right edges, and if you manage to find one on eBay, you'll have to contend with a Japanese keyboard, but it's as capable as handheld PCs ever managed to become.
A plethora of other devices have multiplied in this time, of course – some with tiny QWERTY keyboards, but ones too small for typing or editing large amounts of text.
Where did the good times go?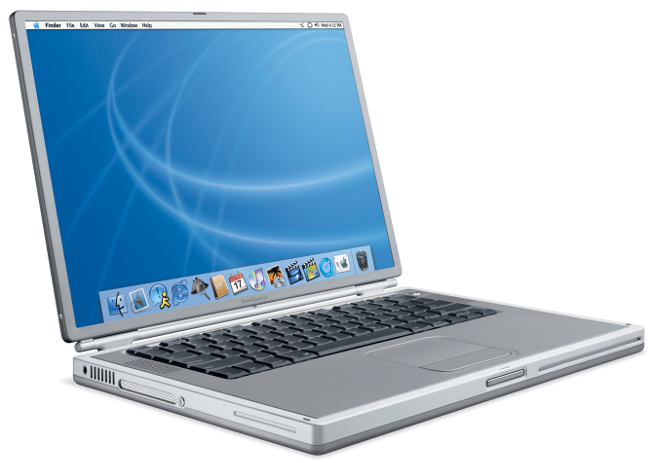 Five whole hours battery life – the Titanium Powerbook was a revelation... at the time
By 2003, notebooks were slim, powerful, elegant devices – Apple's Titanium Powerbook G4 appeared before the Jornada 720. Wi-Fi was de rigueur, but the chipsets sucked too much power for a pair of double-As.
Early-noughties operating systems weren't up to it, either. WinCE was way too limited, and EPOC had become Symbian and had much of its functionality stripped out so it could fit into smartphones. Meanwhile, Linux wasn't ready yet – the specs of a pocket-sized device had a long way to grow before FOSS could deliver a smooth, fast GUI in an inexpensive pocket-sized device. Arguably, 2007 was the year this was demonstrated, in the form of the original iPhone.
But that doesn't explain why they haven't come back. Today, the technology requirements are very modest – there are usable $49 Android 4 tablets coming out of China. They're not brilliant tablets, but they work. Some people, of course, love their fondleslabs: they want to read ebooks, watch movies or play games on the sofa or in bed, and why shouldn't they.
But some of us aspire to produce more than we consume, and would have more use for a pocket-sized writing machine – not to replace a smartphone, but as a supplementary device. Something far smaller than a notebook or even the late lamented netbook: something that's just big enough to show a full page width, just big enough to type on and just small enough to stash away in a jacket pocket on the off-chance that you might need it. Cloud sync now makes it perfectly reasonable to run multiple devices with the same data shared across all of them.
The Jornadas and their ilk were nowhere near as elegant as Psion's gorgeous but heavily patented design. However, enough different companies made devices in that form factor that a modern version should face no legal threats.
If someone had the capital to pay one of the many Shenzhen phone makers to knock out a killer Android handheld PC, many a former Psion owner would be queuing up to order one. I certainly would. ®