Bugger the jetpack, where's my 21st-century Psion?
Forgotten form factors #2: The handheld PC
The good times are coming
The real sweet spot for the 8086 handheld came in the next two years, though, when both companies delivered tweaked second models: the HP 200LX in 1994 and the Series 3A in 1995. Both sported bigger screens – Psion's 480x160 and HP's a CGA-resolution 640x200 – and both now came with up to 2MB of RAM, giving them room for multiple apps – and considerable space for user data, by mid-1990s standards. Finally, use without additional storage was entirely viable.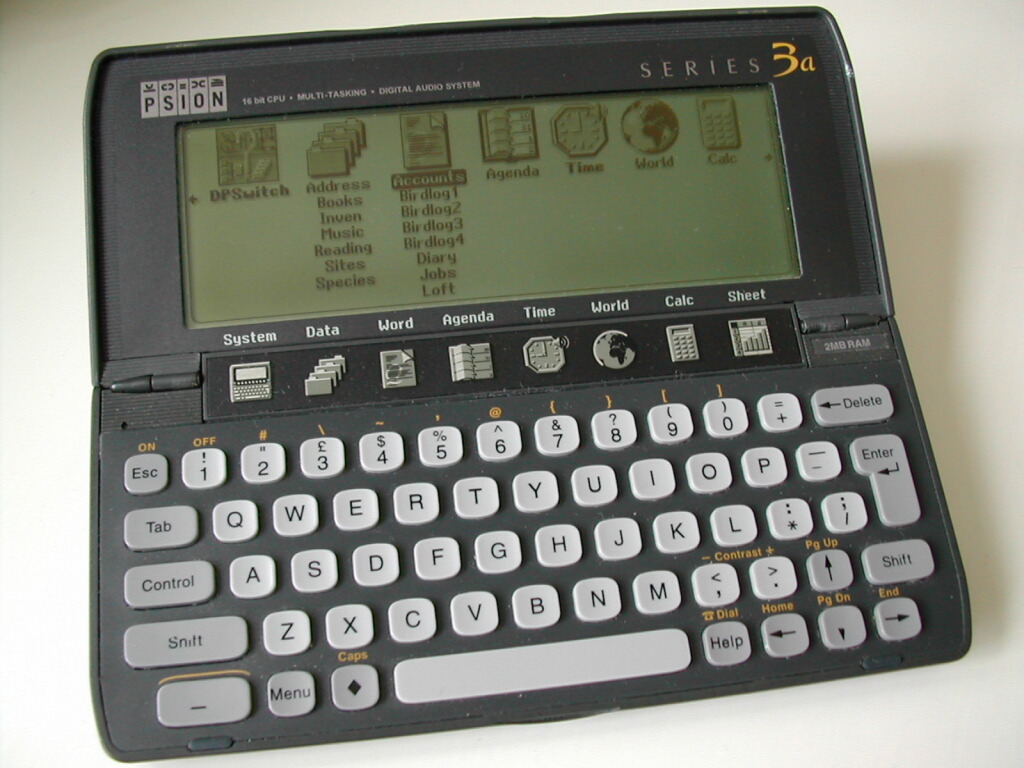 Psion's 3A series: Bigger... but was it better?
The desktop OS of choice was now Windows 3.1, so an LX still wasn't a laptop in your pocket – but with Lotus 1-2-3, cc:Mail and the high-powered calculator all in ROM, they're still used by a few determined fans even today – as are Psions. There was still a clear demarcation between the rival devices: HP's LX range were very much business tools, whereas the Psions were personal assistants you could carry on your person and use to manage your life.
Psions also sported their own built-in programming language and a thriving software market, and the company went on to enhance its range further, with faster processors, infra-red ports and screen backlights, but the focus of development now was the next generation.
Risky business
The next and arguably last big step for the handhelds came in 1997, when the two leading players once again both released their next-gen offerings: the Psion 5 and the HP 300LX. This time, though, Psion clearly had the upper hand. Its ARM CPU and proprietary in-house OS – a complete rewrite called EPOC32 – meant market-beating performance and battery life. It did come as a shock to those of us upgrading from Series 3s, though – the new OS was completely incompatible with the old, driven by touchscreen rather than keystroke, and some of the new apps were weaker than their predecessors, Agenda notably among them.
HP struck off in a different direction with the 300LX and its successors, switching to a Hitachi SH3 RISC chip and Windows CE – known not-at-all affectionately as "Wince". WinCE looked rather like (but was binary-incompatible with) Windows 95, so desktop users could adapt easily – but it was sluggish, and the very simplified CE-edition apps were feature-poor. The 300LX was chunky, too, at 430g and 29mm thick (versus Psion's 23mm and 350g.)
It would take another couple of years for both ranges to hit their second generation and really flower.
For many – including your humble scribe – the updated Psion 5MX from 1999 remains the non plus ultra of handheld computers.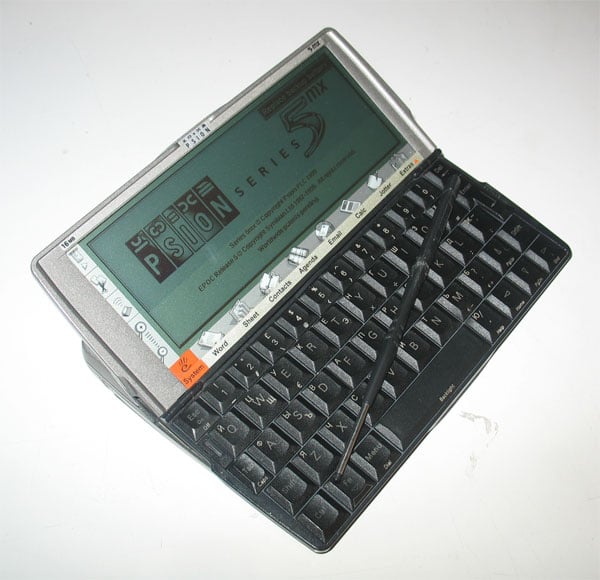 1999's Psion 5MX
Specs-wise, it was a modest step up from the Series 5 – still only a mono screen (albeit much improved), but more memory and twice the CPU speed, although we're still only talking about 36MHz and 8/16MB RAM. However, the device ran for 10 to 20 hours on a pair of AA batteries, and sleeping and waking were genuinely instant, meaning weeks of actual use on a single set of alkalines. The 5MX preserved the superb keyboard and svelte 350g weight from the first model.
HP's LX range gradually ballooned, with faster CPUs, more memory, better screens and additional card slots. The 320LX added a CF slot, a backlight and 12g. The 620LX had a colour screen, was 36mm thick and weighed 586g.