Winklevoss twins say their Bitcoins will take them to SPAAAAACE
Zuck-bashers used crypto-cash to sign up with Virgin Galactic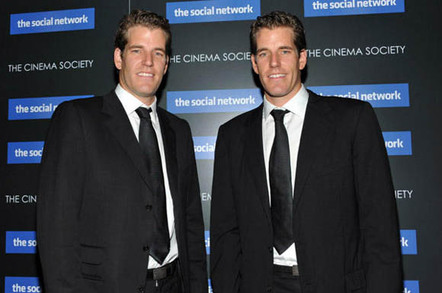 Venture capitalists Cameron and Tyler Winklevoss are the latest thrill-seekers to sign up for seats on Virgin Galactic's SpaceShipTwo rocket plane, and true to form, they have paid for their tickets in Bitcoins.
"Since their inceptions, Bitcoin and Virgin Galactic have been writing the next chapter in our history books," Tyler Winklevoss wrote in a blog post. "While one is ushering in a new era of post-currency, entirely ledger-based decentralized financial systems, the other is ringing in a new era of post-aircraft, sub-orbital spacecraft-based travel systems."
The twins gained fame when they sued Facebook cofounder Mark Zuckerberg, claiming he stole the idea for the social network from them, and then settled for $65m. Now the pair have lately reinvented themselves as Bitcoin moguls.
In April 2013, the Winklevii claimed to have sunk $11m into the virtual currency, a sum equivalent to about one per cent of all outstanding Bitcoin at the time.
More recently, the pair launched Winkdex, an online index that tracks the dollar value of one Bitcoin on various cryptocurrency exchanges and aggregates the data into a single figure, immodestly known as the "Winklevoss index."
The Zuckerberg nemeses aren't the first to pay for their $250,000 reservations on SpaceShipTwo with Bitcoin, though. That distinction belongs to an anonymous stewardess from Hawaii, who according to Virgin Galactic founder Richard Branson "made quite a lot of money by getting into Bitcoin early on."
Zuckerberg foes Cameron and Tyler Winklevoss will head to space via Richard Branson's Virgin Galactic
Branson figures there are lots of other people whose early Bitcoin investments have netted them big bucks, and he's more than happy to take those crypto-coins off their hands – "Why not?" he says.
While Branson mainly hears ringing cash registers, however, the twins prefer to think of the cost of their near-Earth joyride as an investment in the future of spaceflight.
"It is in this vein that Cameron and I contemplate our tickets into space," Tyler wrote, "as seed capital supporting a new technology that may forever change the way we travel, purchased with a new technology that may forever change the way we transact."
Virgin Galactic says "several hundred people" have reserved seats on SpaceShipTwo so far. When commercial flights will actually begin, however, is anyone's guess. Virgin Galactic pilots have taken the craft on several test flights, but despite flying at supersonic speeds, it has yet to actually reach space. ®
Sponsored: How to get more from MicroStrategy by optimising your data stack