Linux cloud world's best kept secret DigitalOcean just bagged $37m
Sssh! Don't tell everyone! Well, not all at once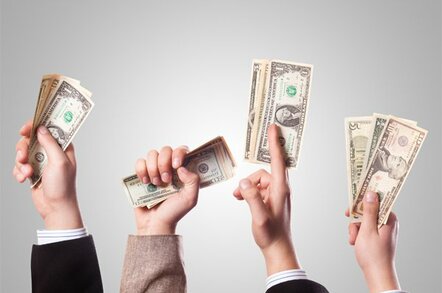 Cut-price virtual-server hosting biz DigitalOcean has banked a whopping $37.2m from Andreessen Horowitz and other valley investors.
The mammoth series-A funding round was announced on Thursday and will give the 50-person company the funds it needs to aggressively hire talented developers and expand globally, while keeping its Linux cloud server prices as low as $5 a month.
"The funding helps – it's given us the leverage we need to attract talent and compensate accordingly," explained DigitalOcean chief Ben Uretsky in a chat with The Register.
Those new developers are in for hard work as the company has ambitious plans to expand its services to include load balancing and native IPv6 support in the near-term, and a full storage platform and content distribution network in the long term.
It also plans to operate data centers in emerging markets, such as Brazil or India, and mature markets including the UK and Germany, Uretsky confirmed.
At the moment, the KVM-powered hosting company operates data centers in New York, San Francisco, Amsterdam, and as of February this year, Singapore.
DigitalOcean competes with other web hosting companies such as Linode, GoDaddy, and Rackspace. Testing by developers shows good performance against Linode at a better value. Some pundits may argue that it is also going up against Amazon Web Services, but this is not the case: at around 5,000 Intel-powered Dell and SuperMicro servers the company fields around five percent of Rackspace's fleet, and at most one per cent of Amazon's.
However, its low pricing, reasonable reliability, and sanely designed user interface has drawn praise from developers. Five bucks a month gets you an single-core x86 Linux virtual machine with 512M of RAM, 20GB of SSD storage and a 1TB network transfer allowance. The more you're willing to pay, the more you get, of course.
Support, though, is lacking as the company only offers an email contact form and no phone number to customers – something which, in a crisis, may prove frustrating. (But on the other hand, with servers costing about a beer a month, what else do you expect.)
This funding caps off a period of torrential growth for the company. In January 2013, it had about 2,000 customers and by the end of the year it was closer to 100,000, Uretsky said.
But it's not all good news – this whopping funding round will draw more attention to the company, and with that a flood of punters who may start to tax its otherwise smooth systems. DigitalOcean is betting that with the new cash it can hire some bright people and buy the equipment to avert this, and to build new services as well.
"Instead of people going to GoDaddy to spin up a website, they can use DigitalOcean. At the same time, startups pushing next-gen application can select DigitalOcean. Ultimately, for large-scale businesses, they're moving to workloads that are a better fit for our cloud: we have an SSD performance advantage and a price advantage," explained Uretsky. "We just want to be seen as this easy-to-use, quickly consumable infrastructure provider." ®