NASA's 2015 budget plea: Jobs, pork, small business – OK, science
Dear Congress: Less than 0.5 per cent of the US budget will buy you the universe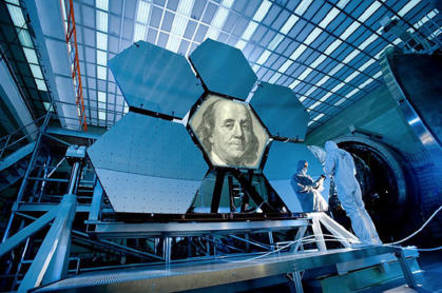 NASA would receive $17.46bn as its share of the Obama administration proposed budget for fiscal 2015, released on Tuesday, down from the $17.65bn it's receiving this year, but healthily up from the $16.87bn it managed to scratch out in sequester-squeezed 2013.
That is, if NASA can convince members of Congress that it would be in their own personal best interests if they'll grant it a 0.45 per cent slice of the US budget.
"Today, President Obama released his Fiscal Year 2015 budget request for the nation, and there is a lot of good news in it for NASA," the agency's administrator Charles Bolden said in a statement. "The president's funding plan for America's space program reaffirms the path we are on, and will keep us moving forward – pushing farther in the solar system and leading the world in a new era of exploration."
Not that $17.46bn of good news tucked away in Obama's $3.9tr budget request is a firm indicator of NASA's 2015 allocation. In the US, Congress holds the purse strings, and the presidential financial plan is at best a statement of priorities and at worst a wish list.
That's true even in the most collegial governmental times – and today's Washington is far from cordial, let alone collegial. To illustrate just that point, the House of Representative's budget committee chairman Paul Ryan (R-WI) told Bloomberg, "This budget isn't a serious document; it's a campaign brochure," and House speaker John Boehner (R-OH) called it "the most irresponsible yet."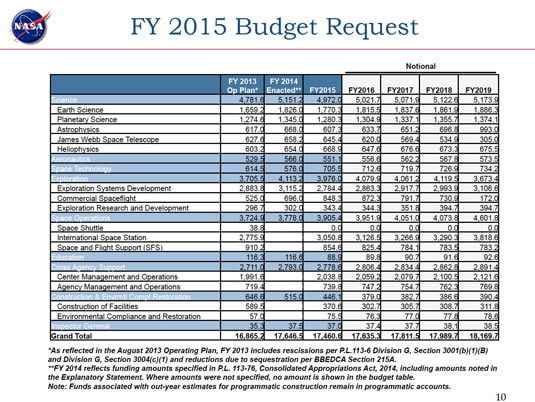 What's less than one-half of one per cent of the US budget? The exploration of the universe (click to enlarge)
That said, NASA spending is distributed through the congressional districts of many a powerful legislator, none of whom wants to be seen as not bringing home the bacon – or other porcine goodness – especially during an election year, so there are reasons to hope, if you're a fan of space exploration, science, and the International Space Station.
NASA's requested funding for the ISS, for example, would be just over $3bn, an amount that the agency plans to grow to more than $3.8bn in its "notional" projections through fiscal 2019.
"We are committed to the International Space Station," Bolden said, "and the latest extension guarantees we'll have this unique orbiting outpost for at least another decade."
No doubt sensing the increasing mood of the country for private enterprise over governmental initiatives, Bolden gave a nod to the private sector when discussing ISS support. "This means an expanded market for private space companies," he said.