Hey doc, what's the PC's prognosis? A. Long-term growth below zero
Everyone wants battery-friendly chips or beefy server silicon, says IDC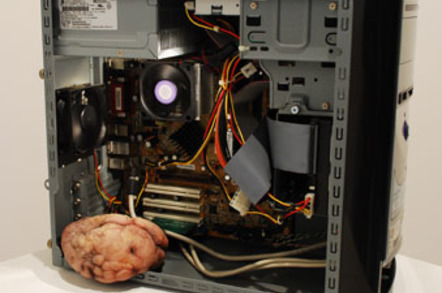 The worldwide PC market suffered the "most severe contraction on record" in 2013, which means it is doing better than expected, analyst house IDC said on Tuesday.
PC and laptop shipments declined by 9.8 per cent in 2013, the firm revealed – and it projected further year-on-year declines through to 2014.
315 million PCs and laptops shipped worldwide in 2013, IDC said, and the analysts reckoned that number would fall to 291.7m by 2018.
The company's dire predictions mirror similarly grim and unrelenting forecasts from the beancounters at Gartner – providing little spring cheer to computer vendors that are already subsisting off of a mere slither of profit margin.
"It's a mix of movement to tablets, a weaker economy, longer PC life-cycles, transition questions about PCs versus two-in-one computers, and OS transitions," explained report author Loren Loverde in a chat with The Register.
The PC market is in the doldrums due to the rise of, you guessed it, mobile phones and tablets, Loverde explained. This transition has taken some companies by surprise, and others such as Lenovo have planned for it via a 'PC Plus' strategy that has seen it diversify into mobes and other devices.
The proliferation of these gadgets has in turn led to the arrival of applications that are built to use a combination of a wimpy handheld computers and a powerful set of remotely provisioned systems to get the real work done – no PC required.
"It wasn't that long we would take photos on a dedicated digicam and download to PC and distribute and edit from PC. That was a slow process that used PC resources and was good for the PC, but today we don't do that – people take a picture with their phone and it's immediately on the web," he explained. "I think PCs will be affected by those changes and react to the extent that they can."
This is a shift chipmakers have noticed as well, with both Intel, ARM, and AMD all recognizing that the middle-ground desktop processors are being squeezed out by a growth in demand for power-sipping mobile processors and heavy-duty server chips.
Many companies have assumed that torrential growth in emerging markets would replace the lost sales from the West, but IDC's data shows the contrary: these developing countries experienced a larger fall in shipments in 2013 than the mature markets, and steeper declines are expected for next year as well. Some of this is because these people are buying phones first, and PCs second, he explained.
"The idea the PC will remain as the center, as the digital hub, has passed," Loverde said. ®