Relief when urine trouble becomes latest capacity-sharing service
Airpnp lets loose with bathrooms-as-a-service ahead of New Orleans Mardi Gras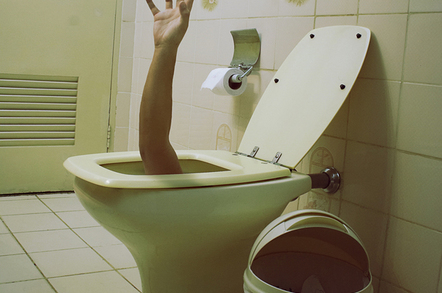 Under-utilised-resource-sharing services were last year's darling in startup-land, with the likes of Uber and AirBnb feted for being jolly clever and making rather a lot of money for participants.
The unused-capacity sharing concept has now gone down the toilet, literally, with the launch of a new outfit called Airpnp.
Before you ask: yes that is "P" as in what you need to do after a few beers.
The concept behind the service is simple: at big events like New Orleans' Mardi Gras, chances are you'll find yourself on the street with a full bladder an nowhere to legally relieve it. Enter Airpnp, which "gives residences and businesses the opportunity to rent out their bathrooms to people in their immediate location who need to use it."
The service lets users find the nearest convenience using a web app, with native apps promised real soon now.
All will offer users the chance to "... rate their pee experience afterwards to others can see how each restroom stacks up."
Some of the conveniences that have listed on the service charge a dollar or two for the privilege. Others are using the service as a promotion. Restaurants are putting themselves on the map in the hope of enticing customers through the door for input as well as output. Lawyer Jason Williamspromises a "high quality" bathroom and is using his loo to promote his bid for election to the city council.
2014's Mardi Gras takes place on March 4th. ®