Confirmed: New Microsoft strategy boss advised President Clinton, ex-UK PM Blair
The truth behind rumors around Redmond senior exec suite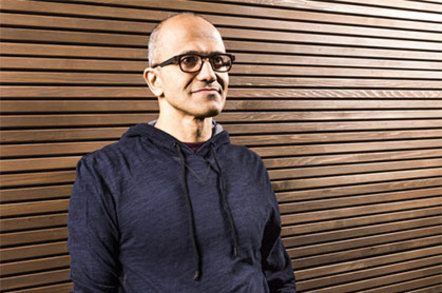 Microsoft has confirmed the latest rumors of an executive shuffle at Microsoft, in the form of an internal email from brand new CEO Satya Nadella that was made public on Monday.
Whispers that certain execs were on their way out while others would be taking more prominent roles first leaked to the media over the weekend. On Monday, an all-hands staff email obtained by Microsoft's local newspaper, the Seattle Times, acknowledged the rumors and added new information.
"We need to drive clarity, alignment and intensity across all our work," Nadella said in his email, adding that he had asked Redmond's senior leadership team for their "all in" commitment for the company's next phase – a theme first put forth by outgoing CEO Steve Ballmer.
So who's willing to push their chips forward under the new regime? There are no new faces joining the team so far, but some familiar ones will be cleaning out their desks.
As reported earlier, former Skype CEO Tony Bates will "look for his next opportunity" as he steps down as executive VP of Microsoft's Business Development and Evangelism team, while current marketing head Tami Reller will "take time off and pursue other interests outside the company."
Both execs gained their most recent titles as part of Ballmer's sweeping restructuring of the company of July 2013 – a plan that already seems to be showing a few cracks under Nadella's reign.
British-born Bates was widely believed to be a frontrunner for the CEO slot at Microsoft, which eventually went to Nadella. Although he never publicly admitted he was bucking for the job, it's likely that he's leaving for a chance to climb the ladder elsewhere.
Taking over for Bates will be Eric Rudder, who currently heads Redmond's Advanced Technology group. But according to Nadella's memo, this will only be an interim appointment while Microsoft looks for a full-time replacement, with Rudder also retaining his current duties.
Stepping up to take on Reller's role will be Chris Caposella, who already ran Microsoft's advertising alongside Reller's marketing team. In his memo, Nadella said he preferred to have one person handle all of Redmond's marketing efforts, rather than splitting the job between two leaders, and thus he has granted Caposella the titles of executive VP and chief marketing officer.
"I have talked about the premium we need to place on getting very, very focused on things that we can uniquely do," Nadella wrote. "How we articulate our value, how we market our message, how we deliver that value to customers through our advertising and other channels, all have to tie into an overarching strategy."
But perhaps the most significant change is the elevation of Mark Penn to C-level executive status. Penn, a pollster and former senior advisor to President Bill Clinton and UK Prime Minister Tony Blair, until recently served as Microsoft's executive VP of advertising and strategy. In that role, he developed some of the company's recent attack ads, including its whinging "Don't Get Scroogled" anti-Google campaign.
Monday's executive shuffle promotes Penn to the role of chief strategy officer, where he will reportedly apply his skills of statistical analysis to drive Microsoft's broader strategic direction.
"Mark brings a blend of data analysis and creativity that has led to new ways of working and strong market outcomes such as the 'Honestly' campaign and the Super Bowl ad, both of which were widely cited as examples of high impact advertising across the industry," Nadella said. "His focus on using data to quickly evaluate and evolve our campaigns has driven new insights and understanding."
Most of these changes are effective immediately, with the exception of Reller, who will remain with the company long enough to ease Caposella into his new role.
Once Reller makes her final exit, however, it will leave just two women on Microsoft's senior leadership team; namely, CFO Amy Hood and VP of human resources Lisa Brummel. And last week it was announced that Julie Larson-Green will be moving to a new team, having been effectively replaced as executive VP of Microsoft's Devices and Studios division by Nokia CEO Stephen Elop. ®
An earlier version of this story suggested Julie Larson-Green will be leaving Microsoft when in fact she will be reporting to Qi Lu as Chief Experience Officer for the My Life & Work team in the Applications and Services Group. We are happy to clarify this point.