VMware CEO Pat Gelsinger's DARKEST FEARS revealed
Form 10-K shows Virtzilla knows it has a lot of work to do in the hybrid cloud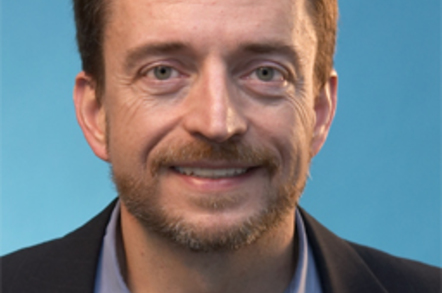 The USA's Securities and Exchange Commission (SEC) has published VMware's Form 10-K, the warts-and-all document listed companies are required to file each year offering deep detail on the state of their business. Form 10-Ks are rather less polished than annual reports and therefore offer more penetrating insights into a company's performance.
So what did VMware put in it's 10-K?
The most interesting bits are in the "Risk factors" section which kicks off by stating "As the market for our computer virtualization products has matured, we have been increasingly developing and marketing products and services targeted toward the delivery, management and automation of information technology ("IT") infrastructure, platforms and services through cloud-based solutions. If businesses do not find our cloud computing solutions compelling, our revenue growth and operating margins may decline."
10-Ks are very conservative documents, lest investors complain about an undisclosed risk, so it comes as no surprise to find that last sentence in VMware's filing. Nor is the next section's statement that a decline in demand for virtualisation products would hurt VMware's bottom line.
The company feels such products "and related enhancements and upgrades will constitute a majority of our revenue for the foreseeable future." But lower down there's a statement to the effect that "As our vSphere-related products continue to mature, our future revenue growth is increasingly dependent on revenue from our new product and technology offerings."
And those new products bring new risks.
"Some of our new initiatives are hosted by third parties whom we do not control but whose failure to prevent service disruptions, or other failures or breaches may require us to issue credits or refunds or indemnify or otherwise be liable to customers or third parties for damages that may occur," the document says. "Any transition of our services from a third party hosting service to our own data centers would also entail a risk of service disruption during a transition. We may be subject to claims if customers of these service offerings experience service disruptions or failures, security breaches, data losses or other quality issues."
Also on hybrid cloud there's the observation that "The success of vCloud Hybrid Service will be dependent on the final global implementation of the offering and building successful go-to-market strategies. We will need to build sales expertise and infrastructure to support the new offering."
Further down there's an admission that "Our increasing focus on developing and marketing IT management and automation and IaaS (including software-defined networking and vCloud Hybrid Services), offerings that enable customers to transform their IT systems will require a greater focus on marketing and selling product suites and more holistic solutions, rather than selling on a product-by-product basis."
The document also notes that competition in VMware's chosen markets is fierce. "We experienced increased competition during 2013 and expect it to remain intense in 2014," the document says. "For example, Microsoft continues to make incremental improvements to its virtual infrastructure and virtual management products and is expected to release updated versions of its Hyper V virtualization product." Oracle, the document says, is another competitor it needs to watch, if only because its free pricing for virtualisation technologies is seen by some customers as compelling.
There's also a hint that VMware may need to revisit licensing, an issue that has brought it much pain in the past. Here's the passage, from page 16 of the 10-K, on that topic:
"As hardware and processors become more powerful, we will have to adapt our product and service offerings to take advantage of the increased capabilities. For example, while the introduction of more powerful servers presents an opportunity for us to provide better products for our customers, the migration of servers to microprocessors with an increasing number of multiple cores also allows an end user with a given number of licensed copies of our software to multiply the number of virtualization machines run per server socket without having to purchase additional licenses from us. If we are unable to revise our solutions and offerings in response to new technological developments, our ability to retain or increase market share and revenues in the virtualization software market could be materially adversely affected."
The document also addresses risks posed by the fact some VMware products are, or use, open source code made available under a range of licences. Nicira gets a special mention as its principal products contain some open source software," sparking a lengthy discussion about the attendant risks.
There's a delicious passage describing VMware's relationship with EMC, that says in part "EMC and we are both IT infrastructure companies providing products and services related to storage management, back-up, disaster recovery, security, system management and automation, provisioning and resource management. There can be no assurance that EMC will not engage in increased competition with us in the future. In addition, the intellectual property agreement that we have entered into with EMC provides EMC the ability to use our source code and intellectual property, which, subject to limitations, it may use to produce certain products that compete with ours."
With EMC offering Vipr and VMware offering vSAN, and both companies saying there's no way either overlaps the other, there's some irony in that section of the 10-K.
There's plenty of happy news, too. The company demonstrates how it has out-performed the Standard & Poors indices for all stocks an for software-makers. Nearly $US4.4bn of working capital is available. There's also welcome news that Enterprise Licences Agreements "... comprised 35%, 27% and 26% of our overall sales in 2013 , 2012 and 2011," a nice set of numbers as it shows more customers are signing up for the long haul.
That fact, and many others in the 10-K, probably mean CEO Pat Gelsinger doesn't have much trouble sleeping at night. But it is clear VMware knows it has a fight on its hands, especially as it pushes into hybrid cloud. ®
Sponsored: Minds Mastering Machines - Call for papers now open