French silver foxes use Fujitsu's Grandroid mobes... to send each other selfies
Soon they'll send them to Japanese pals using Babelfish-like social network feature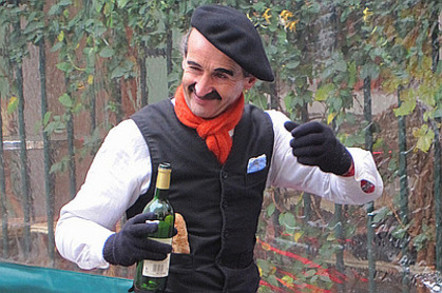 One of the features of the Fujitsu Stylistic phone, a device targeted at the older French market and sold by Orange France, is its dedicated social network. The Raku-Raku phones Fujitsu sells in Japan have a similar feature, and the silver-haired beta testers of the er, francophone, will soon be using it to get friendly with Asian grandparents.
At Mobile World Congress, Fujitsu announced the social experiment in which it would link Stylistic and Raku-Raku customers in the two countries. The social network feature has turned out to be hugely popular with over 80 per cent of customers who are currently testing it out in France.
Posting in one place will be translated and posted on the other country's site. It will be interesting to see what topics people discuss. The French beta testers seem to have concentrated on food. Looking at postings - they also provide a service into English - it's very clear that the text has been machine translated. There is a whiff of hovercraft and eels, but the sense translates better than the words and there is something quite charming about grey folk from different sides of the world discussing cheese.
There is also a picture-sharing service to go with it. Fujitsu has been very surprised at how popular the picture sharing has been, not just on the social network but between customers and their families.
The company had envisaged that Stylistic customers would take a picture of their grandchildren and use it as wallpaper or lock screen, but have been delighted to see that the camera on the phone gets quite heavy use, with the customers taking selfies and using them in streams of conversation with their families and friends.
The Stylistic has proved successful for Orange in France, which piloted it in 100 shops and has since expanded that to 250. The phone has all kinds of features which make it easier for older users to operate, such as requiring a definite press on the touchscreen and clever audio features for those with poor hearing.
It's one of a wave of Grandroid phones which include the Swedish Doro 810 and new Austrian EmporiaSmart. ®