Software containers for BYOD/mobile device management: Big Tin Can
This baby will never escape from the bit of string back to corporate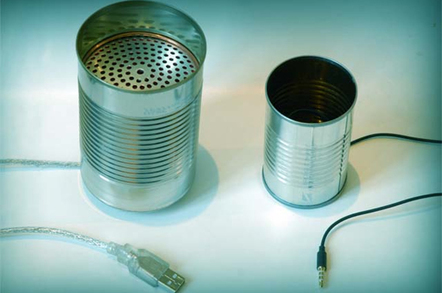 An environment which runs on a number of mobile platforms seeks to solve lots of the BYOD issues faced by corporates. It creates a balance between locking down a device so completely that people won't or can't use it and leaving the door open to miscreants.
Such environments these days are often known as "containers" (or "containerz" in one case). One such offering which we here on the Reg BYOD/Mobile Device Management desk have been having a squint at lately is known instead as Big Tin Can.
Big Tin Can's David Keane describes his company's software as "secure role based delivery of information and content to mobile devices", which is corporate speak for sending people the info they need to do their work. Big Tin Can runs as an app - it's not usually web based - so that it can be used offline. You don't add general third-party apps; the vast majority of work can be done - word processing, spreadsheet and the like - within the Big Tin Can. There are plug-ins for a number of services including outlook and sharepoint, with integration for SAP and Salesforce.
The idea is that either the company can issue the phone or tablet to the workforce or individual workers can bring their own device and have Big Tin Can installed. Within the Can the company can configure a suite of applications and build content that the workers need. It's common practice to take photos of whiteboards in meetings, for instance, but too many personal devices are set up to automatically post pictures. You don't really want the company's next three year strategy posted straight to Flickr and Twitter.
Corporates used to ban cameraphones but now that's pretty much become impossible to enforce. Big Tin Can ensures that pictures taken within the app are not saved to the camera roll or usual picture storage but instead are held within the secure environment.
Big Tin Can runs on iOS, Android, Blackberry 10, Windows 8 and Windows 8 Pro. The company's holding fire on Windows Phone and says a Windows RT version is unlikely. There is a web app, but that's really not the way Big Tin Can wants the software used.
Content within Big Tin Can is encrypted, can be remotely wiped and works with device side containers. There is location protection so that information cannot be taken into or out of geofenced places. And of course there is remote password change and content wipe for when devices or people are no longer attached to the company. ®
Sponsored: How to Process, Wrangle, Analyze and Visualize your Data with Three Complementary Tools