Java or .NET bod in the Midlands? Congrats - you've got a DOUBLE DIGIT payrise
Even if you're not, it's looking good for Blighty's techies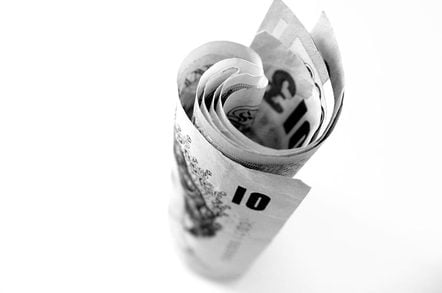 IT contractors are being treated to whopping great annual pay rises of up to 13 per cent, a survey has revealed.
While the rest of the world makes do with rock bottom wages, tech bods working in the financial services sector are finding their pay packets shoot skywards due to heavy demand for their skills, according to the Robert Walters Salary Survey 2014.
Outside of Mammon's palaces, surging demand for e-commerce and mobile technology expertise continues to explode, pushing up salaries in permanent roles in these areas by an average of seven per cent.
Unsurprisingly, the Midlands is failing to attract anyone with skills in Java and .NET, meaning contractor pay has soared by 12 per cent in the region.
The North West is another undesirable area where pay has jumped six per cent, due to demand for skills in e-commerce, change management and business intelligence. Shortages of VMware experts and front end developers have also generated average pay rises of up to six per cent.
Natasha Brooks, head of IT recruitment at Robert Walters, said: "It was a positive year in IT recruitment: the marketplace improved and for the first time in many years IT professionals had confidence in the job market. The number of vacancies increased steadily over the year and the demand for contractors increased as organisations willingly invested in high profile projects.
"With the increase in job opportunities and continued skills shortages, salaries are expected to rise for the best candidates. Firms unable to offer market-rate salaries or other benefits are likely to lose out to competitors." ®
Sponsored: Detecting cyber attacks as a small to medium business