Hey 4G bods: We need to make 'phonecalls' with our 'voices', too
And someone has to make it all work, natch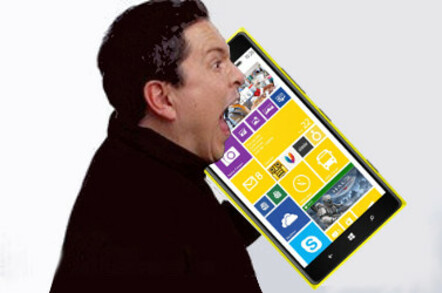 MWC 2014 It's well documented that voice is little more than an afterthought on 4G. That's now being addressed, says Paul Gowans from network tech specialist JDSU, but it will be some time before you can reliably pick up a 4G phone and make a call to another one.
JDSU runs services for all kinds of networks, not just mobile. It does fibre, metro Ethernet and many flavours of radio. It makes the equipment for testing infrastructure and says a major source of its work at the moment is helping customers to get voice working on 4G.
When voice in 4G is working, as it is doing in South Korea on SK Telecom, it's great. The call setup is particularly quick and the sound quality is amazing, far better than on landlines.
But a lot has to happen for the systems to work, in part because VoLTE (Voice over 3G Long Term Evolution) includes a guarantee of call quality – which means a guarantee of bandwidth, minimum lost packets or jitter. So it's a much tighter set of regulations than those imposed on VoIP services, for example – which Skype users will attest.
As with existing systems, there is a lot of polling which needs to go on before a call can go through – making sure you should connect to the network and have paid your bill, for example. But one thing which is still a long way off is handoff. So long as you have good 4G coverage you can hop from base station to base station. But if you fall out of a coverage area and want to drop back to 3G or 2G, everything gets very difficult. Most systems currently expect the call to drop, which means you'll have to redial.
IMS (IP multimedia system) provides a route to get a 3G signal powered up and ready for you before your 4G call drops (so as to hand it over smoothly), but that's a long way from being a mainstream production solution.
JDSU's Gowans said he is involved with some of the discussions around 5G. Maybe this time around, the engineers will realise that people still use their phones for spoken conversations. ®
Sponsored: Detecting cyber attacks as a small to medium business