Wanna change the world but need cash? Fret not: Billionaire Eric Schmidt has some spare change
A million dollars up for grabs just in time for a book launch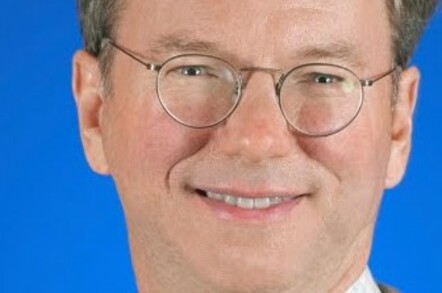 Billionaire Google executive chairman Eric Schmidt is putting up one million dollars of his own money to fund technological innovation.
Speaking on This Morning on CBS, Schmidt, said to be worth $8.3bn by Forbes, said he wants to "put my money where my mouth is". The cash will be awarded to individuals or groups that are using technology to make a difference in the world, he said.
"There's lots of people working on the solutions," Schmidt told the morning news program.
"We identified a whole bunch of companies in different parts of the world who try to solve oppressive censorship, empower individuals and make these things more useful."
The donation was announced, conveniently, as Schmidt and Google director of ideas Jared Cohen finished writing a book together titled The New Digital Age: Transforming Nations, Businesses, and Our Lives. Schmidt is set to announce those who will bag a slice of the $1m grant on 10 March, one week after the book goes on sale.
Former Google chief exec Schmidt also touched on the fallout of whistleblower Edward Snowden's leaks of the NSA and GCHQ's global internet surveillance. The search supremo said that although Google did not endorse lone actors leaking sensitive information, Snowden's disclosures were "helpful" in advancing the online privacy discussion.
"This a new problem, the ability to take a single USB card and take a million records of your tax information or your health information," Schmidt added.
"So when governments aggregate that data, it's very important that they either not aggregate that data or the figure out a way that people can't just take it, especially people that are inside."
Schmidt has emerged as an outspoken critic of the NSA's domestic surveillance programs in the wake of revelations that Google and other online service providers were tapped by government spies as part of large-scale data harvests.
In November, the Google exec chairman said that the NSA program was "really outrageous" and that the decision to tap Google internal datacenter traffic without the company's knowledge or permission was "not OK." ®