Juniper, HP join the MWC NFV frenzy
Look who wants to add 'intelligence to the dumb network'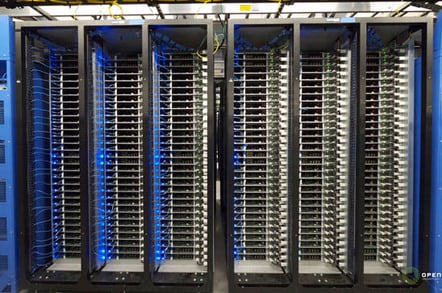 MWC 2014 As the countdown to Mobile World Congress in Barcelona nears zero, another two major vendors have added their names to the NFV – network function virtualisation – list: Juniper and HP.
Their announcements, along with similar releases last week by Alcatel-Lucent and Cisco, lend further weight to the decomposition of mobile network elements from control elements that until now have been colocated in base station infrastructure.
From HP, we have an initiative called OpenNFV, the centrepiece of which is a reference architecture for the virtualisation of telco network functions. Juniper is pitching an "automate, scale and service creation" message in its announcement, which covers virtualisation, new management environments and new hardware.
NFV the HP way
According to HP's veep for NFV Werner Schaefer, the OpenNFV program is designed to give carriers and third parties an environment they can work with ahead of the upcoming ETSI recommendations on network function virtualisation, which he expects to be finalised by year-end.
OpenNFV, HP says, covers "physical servers, storage and networking, virtualisation, controllers for software-defined networking (SDN), resource management and orchestration, analytics, telco applications, and a complete Operations Support System (OSS)."
Schaefer told The Register the company is also making a lab environment available "where equipment providers, carriers and application providers" can test their approach and work out "what applications can safely be virtualised."
"We need to show that it works, and show that it is stable and safe," Schaefer said.
The HP view, he said, is that NFV can't be delivered by any single company. For a start, there will remain an awful lot of incumbent equipment in place that carriers "can't rip out and replace".
Alongside the reference architecture, he said, there's also an OpenNFV partner program.
The other aspect to NFV – and more generally to the virtualisation of carrier services – is that it helps concentrate network, service, and subscriber data into fewer environments. "Carriers … collect huge amounts of data out of their networks, but they can't harvest that intelligence.
"If you have the network and you can differentiate your offerings by knowing what's in the packet, that will offer a tremendous opportunity from the carrier."
It's a kind of Empire Strikes Back scenario: the carriers have, over nearly two decades, had their traditional value proposition – the intelligence of their networks – undermined by the explosion of the Internet, whose basic architecture is "dumb network, with services built on smart hosts".
NFV is one way, Schaefer said, to "bring intelligence back into the network."
Juniper: 'Extend Contrail out of the data centre'
On that point, Juniper Networks' VP of service provider marketing Paul Obsitnik agrees with HP: there is a desire to create "high intelligence networks" for entities building into the cloud.
"I don't see that scenario playing out across the board," Obsitnik said. "The solution is more complex than that – there are certain services that will buck the Internet trend and get pulled back into the data centre.
"But there are also services that should reside more closely to the edge … because if you're going to haul all traffic back to one data centre, that presupposes that you have high capacity, low cost, low latency links everywhere."
NFV, Obsitnik said, "is a rethinking of the architecture … but it is nowhere near a single-variable equation".
The "automate" part of Juniper's story is in its Junos Fusion launch. Fusion, through the company's MX or PTX routers, is designed to concentrate management of "thousands of devices" from a single management plane, Obsitnik said.
"What Contrail did for the data centre, Junos Fusion does for the service provider … [it converges] the touchpoints, the protocols and the CLI that the techs need to work with."
Support for NetConf Yang allows Fusion to work with third-party devices, he said, and where important kit in a service provider's network isn't compliant with a standard, "we can take someone's CLI and "model it into NetConf Yang."
The "scale" aspect of Juniper's announcement includes the NorthStar Controller, and terabit line cards for the PTX router. NorthStar, Obsitnik said, is an SDN controller that provides discovery of network devices, topologies and paths.
The WANDL technology (a Juniper acquisition from December 2013) included in NorthStar provides the ability to "optimise the paths in the network, and then push those configurations out through the network." He claimed that this lets path adjustments be accomplished in "minutes rather than months."
Juniper's (somewhat bold) claim is that the technology lets SPs provision their networks for much greater utilisation than they typically run today. "We see service providers provisioning networks for 40 to 50 per cent utilisation. With NorthStar we say they can increase utilisation to 80-90 per cent" - which is much more cost effective for the network owner.
Finally, there's the service creation angle. Key to this, Obsitnik told The Register, is extending Contrail with NFV, "from the service edge all the way to the data centre."
Specific feature sets added in the announcement include Junos Video Focus, as well as subscriber-aware and application-aware functions.
There's also a purpose-built x86 server, the CSE2000, an NEB-compliant server. NEB is an AT&T-developed spec covering hardware designed for central office installations. While that spec US-specific, Obsitnik said the aim is to pitch a general-purpose x86 at carriers who want a platform that will run the increasing NFV code base, without having to get qualification for kit that's not designed for telephone exchange installations. ®