G20 gives Google, Microsoft, Apple et al tax deadline
G20 finance ministers speak loudly, mention big stick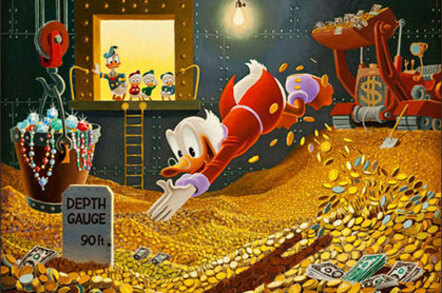 The world's top 20 finance ministers have signalled once again that they're sick of their taxes disappearing offshore and have signalled a strong intention to get their cash back.
The ministers in question are all members of the Group of Twenty (G20) and gathered in Sydney, Australia, over the weekend.
The Communiqué (PDF) issued at the end of the meeting offered the anodyne comment (in paragraph nine) that "We are committed to a global response to Base Erosion and Profit Shifting (BEPS) based on sound tax policy principles. Profits should be taxed where economic activities deriving the profits are performed and where value is created."
So far, so normal. But things hot up a little later in the paragraph, to wit:
"By the Brisbane summit [in November], we will start to deliver effective, practical and sustainable measures to counter BEPS across all industries, including traditional, digital and digitalised firms, in an increasingly globalised economy."
That's rather stronger, as it indicates the likes of Apple, Microsoft, Google – all of which have been criticised for find legal-but-tricky means of paying rather less tax than the spirit of the law intends – now have a deadline of sorts to either start paying up or have their lawyers and accountants come up with another cash-shuffling regime.
The noose is tightening in other ways. The Communiqué also says "we expect to begin to exchange information automatically on tax matters among G20 members by the end of 2015", while all G20 members are getting a hurry up to sign on to the Multilateral Convention on Mutual Administrative Assistance in Tax Matters tout de suite so that nations can peer into each others' books, the better to extract some tax.
The 20 finance ministers aren't only feathering their own nest: other activities will see the group "engage with, and support low-income and developing countries so that they benefit from our work on tax."
All of which means some time in the next few years the companies above, and plenty of others, may find their profit margins under pressure. Let's see how the world responds once the price of its favourite gewgaws goes up as a result. ®
Sponsored: Minds Mastering Machines - Call for papers now open