TONGUES OUT if you want to LICK Steve Jobs' BACKSIDE
US Postal Service to put dead Apple chief's fizzog on stamps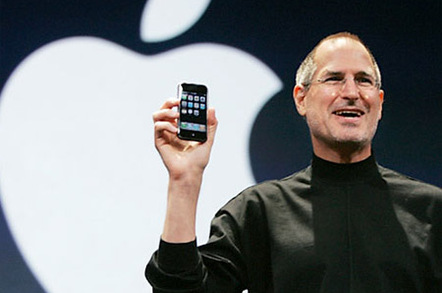 We bet there are millions of fanbois who would sacrifice one of their favourite appendages for the chance to lick Steve Jobs' face.
Now they have the opportunity to flick their tongues all over the fruity fuhrer following the announcement that he will feature on American postage stamps in 2015.
The Washington Post managed to unearth a "top secret" list of the stamps planned for release in the next few years.
Whilst the designs have not yet been finalised, the list is a fascinating glimpse into the psyche of post office chiefs.
Reg readers will be most interested to see the late Apple CEO on the new stamps, slated for release in 2015, but you may also be curious to observe which version of Michael Jackson the US Postal Service plan to feature. Will it be handsome young afro-haired pop prince of the 1970s or the washed-up, drug-addicted plastic ghoul of the latter years?
Super Mario is also set to feature, along with John Lennon, Jimi Hendrix, Peanuts and Elizabeth Taylor, along with all manner of other stars of real life and fiction.
Philatelists will also be treated to stamps celebrating pick-up trucks, prenatal health care, the "first class large coil", America's coffee, "favourite desserts", "fanciful blooms" and, of course, the year of the monkey.
Other plans include a reprint of a stamp featuring the slogan "where dreams blossom", a nauseating over-the-top motto worthy of Jobs himself, and the Purple Heart decoration for wounded soldiers. ®