Toshiba Encore: The Windows 8.1 tablet that might catch on
Don't be fooled by the fondleslab's feel...
Desktop background
Since, in my book at least, half the reason for buying an Encore is that it can be used as a fully fledged Windows PC, it made sense to test it as such. So I gave PCMark8 a spin to get an idea of its underlying performance and of the durability of the fixed 2-cell 20Wh battery.
The PCMark8 result of just over 1200 wasn't a stunning score, but it's not far below what you'd get from some Core i3 laptops. It certainly shows this to be an Atom processor with, at last, some serious grunt.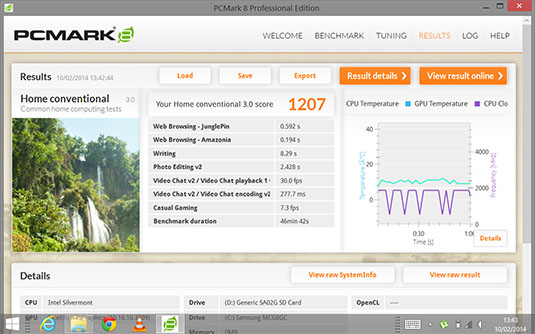 PCMark 8 score for this Atom matches some Core i3 models of old
Looping PCMark8 drained the battery in a little over six hours. Used for a continuous mix of web browsing, writing this review on Google Docs and watching a few 720p mp4 videos, it lasted for a few minutes shy of eight-and-a-half hours.
With graphics being handled by the Intel Atom's HD IGP this clearly is not a platform for even semi-serious PC gaming but it managed to return a 3DMark Ice Storm gaming benchmark score of just under 16,000. I'd say this is par for the course for most similarly priced tablets or laptops.
If the Encore was running a Linux distro then the tablet would perhaps perform even better but I couldn't get the system to boot off a USB stick so that will have to remain a matter of conjecture.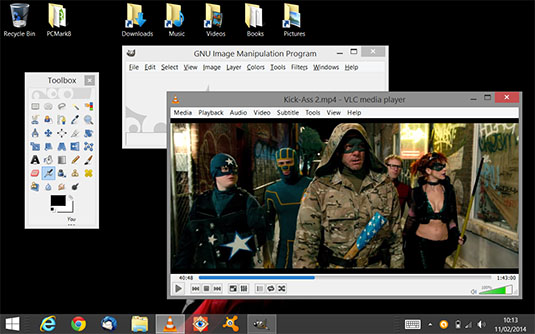 Windows desktop, anyone?
Some will lambast Windows 8 tablets for even having the "old fashioned" desktop but I see it as the ace up the Encore's sleeve because you can use it for real PC stuff and run all your – or rather my – favourite Windows programs like Thunderbird, VLC and Gimp. Lest we forget Microsoft's Office Home & Student 2013 which comes pre-installed. Well, in retail packages at least, it was missing from my review unit, but LibreOffice worked a treat in its place.
Of course, to use the Encore as PC you really need a good Bluetooth keyboard along the lines of Microsoft's Wedge, which comes complete with a handy universal tablet stand.
That said, using the Windows desktop with your fingers and the virtual keyboard isn't an entirely hopeless undertaking - I managed to use Thunderbird with no real problems - but there's really no point in trying to touch your way through a user interface that is clearly designed to be used with a mouse and keyboard.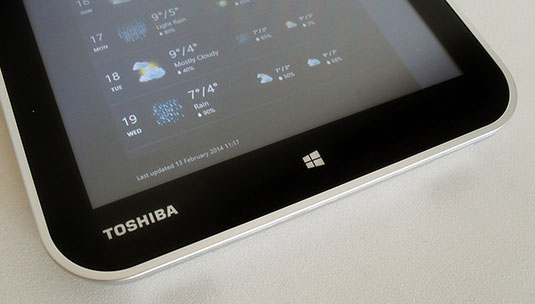 Windows home button is smooth and is not illuminated, which can cause orientation issues in dark
Away from the Windows desktop if all you want from your tablet is to listen to music, watch movies, read books and keep up with your social network, then the Windows touchscreen interface has you well covered and the Encore can do all those things with ease.
Say what you like about the Windows touch UI, it's almost insultingly easy to use. I'm also developing a soft spot for some of the primary Windows 8 apps like news, weather and email while the ability to sign into your SkyDrive/OneDrive account and synchronise content between your various Windows machines is a feature that shouldn't be overlooked. Ditto, the various Xbox-branded cloud features, like Music.
Having genuine DropBox/Box/GDrive folder sync on a tablet has its uses too. I use DropBox to sync all my Thunderbird folders across my laptops and I quickly got used to having my desktop email environment replicated in toto on my tablet.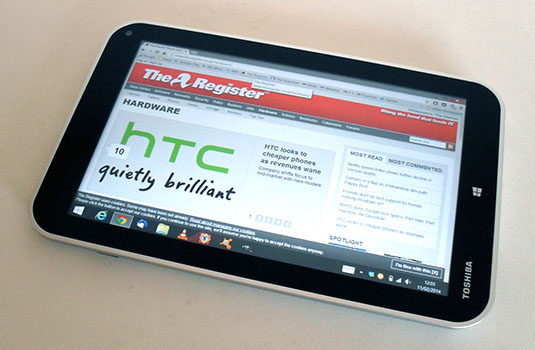 A decent web cam and the full Windows desktop experience
Finally, Toshiba also deserves a mention in dispatches for not loading the Encore down with bloat. Other than Spotify and McAfee – both uninstalled in a trice – what you have here is a pretty much a vanilla version of Windows 8.1. I would say that it's a bit of shame there isn't a version of the Encore available with a cellular radio though.
The Reg Verdict
As a pure tablet, the Encore leaves a few things to be desired. Physically it's heavy, thick and a bit ugly when compared to the likes of the Nexus 7 and iPad mini. Furthermore, the paucity of touch-optimised apps in the Windows store, compared to to iOS and Android, is still an issue.
On the other hand the baseline performance from the new Atom chipset has at last reached an acceptable level, the screen and cameras are pretty good, the battery life is respectable and, of course, you can hook it up to an external monitor, keyboard, printer et al for a fully fledged PC experience.
Certainly, if Toshiba forgot to ask for this one back, I could see it quickly replacing the HP Pavilion dm1 as my backup and travel PC and my Nexus 7 as my go-to tablet. With my Android Moto G and a Windows 8.1 Encore, I'd be covered for all eventualities. ®

Toshiba Encore: The Windows 8.1 tablet that might catch on
An 8-inch tablet with full-blown Windows 8.1 on the latest quad-core Atom processor, makes a case for a second look at MS-powered fondleslabs.
Price:
£249 (32GB), £299 (64GB) RRP