Winklevoss twins flash their Winkdex at Bitcoin price-trackers
Facebook 'baddies' in play for cryptocash domination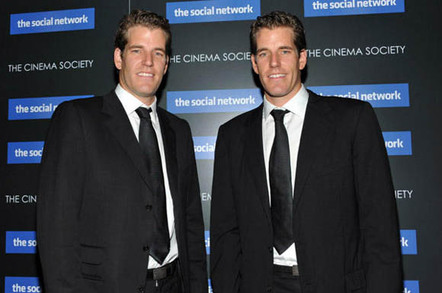 The Winklevoss twins have returned to the tech world with the announcement of a new Bitcoin price index called Winkdex.
To cryptocurrency lovers, the Winkle Twins' new service will operate as "a blended price index that is designed to reflect the true price of bitcoins".
The price exchange's moniker bears comparison with Windex, the name of a "touch-up cleaner", which the Reg's filthiest mind will let you form your own conclusions on.
Serving as a kind of crypto stock-ticker, Winkdex slurps price information from five different exchanges and allows the Bitcoin lover to track the price of the digital funny money.
Also known modestly as "The Winklevoss Index", Winkdex will be used to represent aggregate value of Bitcoin, a figure which is difficult to produce due to the fluctuating prices on differing exchanges.
"We believe that we are establishing an accurate spot price that reflects the true value of a bitcoin and resolves the price confusion that exists due to the various exchanges," said Cameron Winklevoss.
Aside from starring as the baddies in the Zuck biopic The Social Network, the Winklevosses have been busily buying Bitcoin. They now claim to hold about one percent of all the virtual currency which is currently in circulation.
What products would you like to see Winkle One and Two produce next? ®
Sponsored: Becoming a Pragmatic Security Leader