MEPs demand answers from EU antitrust chief about planned Google search biz deal
Get back here and explain your actions to us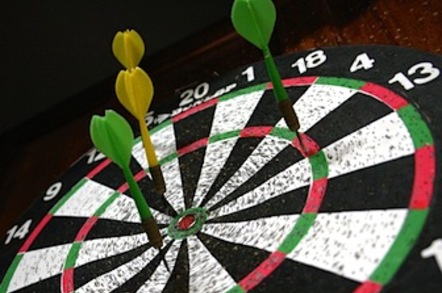 MEPs have asked Brussels' competition boss Joaquin Almunia to explain to the European parliament why he thinks that a planned settlement deal he recently struck with Google over its dominant search biz in Europe is good enough to address concerns about the ad giant's alleged abusive tactics.
In a letter – seen by The Register – addressed to the European Commission's vice president, EU politicos Ramon Tremosa and Andreas Schwab asked Almunia to appear in front of the EU's economics and monetary affairs committee to tell MEPs why he had now reached an agreement with Mountain View after having rejected two previous offers from the company.
The missive [2-page PDF] said of the proposed hearing:
Such a political exchange is essential for the members to not only understand why the proposed commitments solve the identified competition concerns and restore competitive conditions to online search and search advertising, but also if they benefit consumers as required under European law.

To better comprehend the process, we would also like to be informed about the next legal and political steps of procedure.
Tremosa and Schwab said that recent disagreements about the planned settlement deal with Google from some senior EU officials within the College of Commissioners were "unsettling".
They also noted that industry foes – and not complainants – who have now been frozen out of the latest round of horse-trading in Brussels had "serious criticisms" of the process.
The MEPs said they were worried about the "current lack of comprehensive feedback with respect to agreed commitments", and urged Almunia to reconsider a market test of Google's revised package of concessions.
The commissioner has dismissed what would have been a third round of tests with complainants and industry players pawing their way through Google's proposals. He has said that it is now time to move to the next stage, and said he is satisfied with the ad giant's offer, which - if waved through by the executive body of the EU - would mean Google would not to admit to any wrongdoing nor pay a fine of up to 10 per cent of its annual global turnover.
Such a deal would be legally binding for the course of five years. Almunia is hoping to wrap it up in the summer months.
But opposition to that plan is mounting with renewed political pressure being heaped on Almunia from MEPs who have previously quizzed the commissioner over his dealing of the case.
Tremosa and Schwab added:
We acknowledge your efforts in bringing Google to the negotiating table and extracting concessions from them. This is certainly not an easy task and the way online search and the internet work is complex. However, up to now, what Google has offered has twice proven to be insufficient and inadequate to address the problems caused by its practices.

Therefore, nothing should be taken for granted with regard to this third, and hopefully last, package of remedies.

Additionally, we should also analyse the broader spectrum of Google's services, which are not touched upon by the current settlement efforts and evaluate as to whether the unbundling of the search engine from the other commercial services would not be an adequate long-term solution.
El Reg has asked Almunia's office if the commission will accept the MEPs' invitation to discuss the case with the EU parliamentary committee, but it had not immediately got back to us with comment at the time of writing.
The two European Parliament members wrote to the EC's competition boss just days after Google attempted to silence its critics by going public with its planned settlement deal. ®
Sponsored: Becoming a Pragmatic Security Leader