Chihuahua TERROR: Packs of TINY hounds menace Arizona
Phoenix kids pursued by yappy mutt gangs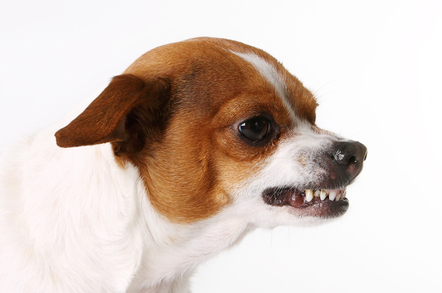 Residents of a suburb of Phoenix, Arizona, are battling to reclaim the streets from packs of Chihuahuas which have brought terror to wide-eyed kiddies obliged to run the canine gauntlet on their way to school.
According to this chilling report on Fox, gangs of the diminutive mutts numbering as many as 12 roam the streets of Maryvale with impunity, crapping with wild abandon and generally making a yappy nuisance of themselves.
Resident Ray Rios said: "Yeah a lot of them they are out here chasing kids or going yard to yard, anywhere in groups of eight to twelve just running around."
Disturbingly, the pint-sized Mexican immigrants appear to have formed alliances with larger breeds, as a shaken Frank Garcia recounted. "I've seen six or seven Chihuahuas, and big dogs running with the chihuahuas in a pack ... every single day," he confirmed.
Maricopa County Animal Care and Control is struggling to cope, with emergency calls from Maryvale in 2013 "three times higher than surrounding areas", as the organisation's Melissa Gable put it.
The problem is, Gable explained, that by the time officers respond to a resident's rogue Chihuahua sighting, the animal has taken to its dainty heels. She advised: "If at all possible, if you see a stray, if you can safely contain him in your yard and then call us, that makes a big difference."
The Chihuahua is believed to be descended from the Techichi - a small canine first adopted by the Toltec inhabitants of what is now Central Mexico. It's a popular breed in the US, peaking at ninth spot in the most favoured dog league table in 2002. This "may have had something to do with the immensely popular Taco Bell advertising campaign that featured a talking Chihuahua named Gidget", this illuminating Chihuahua resource notes. ®
Sponsored: Detecting cyber attacks as a small to medium business