Fujitsu testing NFC smart glove and HUD combo
Raise your finger to pipe data to your retina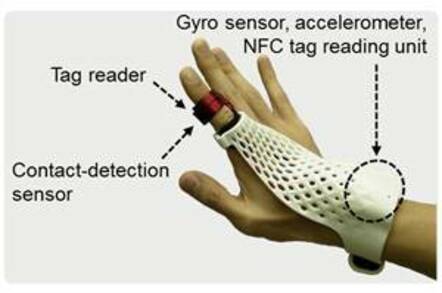 Fujitsu has leapt aboard the wearable technology bandwagon with an NFC-enabled smart glove fitted with gesture recognition, which could boost the productivity of field workers without getting their mobiles dirty.
The unnamed glove device is designed to work best with a head-mounted display (HMD).
As such, a user could tap an NFC object in front of them with the glove to bring up more information about that object on the headset.
The gyro sensor and accelerometer housed in the wrist part of the glove could then enable the user to flick through that information and even add additional notes, by gesturing.
The glove and HMD would communicate with the user's smartphone over Bluetooth but enable them to work hands-free – especially useful for environments when the user either has to wear thick gloves or for on-site operations where hands get dirty, Fujitsu said.
The wearable has been designed to slurp so little power it can run for nine hours between charges. It can also recognise six gesture patterns (up, down, left, right, rotate left, rotate right) with 98 per cent accuracy.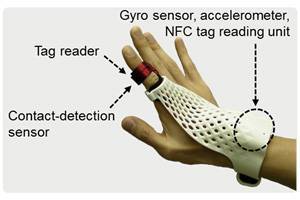 The Japanese computing giant said it plans to carry out further tests on the glove with a view to launching a product in 2015. The device will also be on show at this year's Mobile World Congress in Barcelona next week.
Fujitsu's offering is unlike most of the smart watches, e-jewellery and Google Glass clones which will be on show at the event in that it could be genuinely useful to enterprises workers with particular workplace requirements.
The market for wearables is certainly moving at a pretty tidy pace. on Monday the Korea Advanced Institute of Science and Technology (KAIST) revealed a new HMD design, dubbed K-Glass. ®