QLogic grabs Broadcom Ethernet assets
Chuck in IP licensing and we'll call it $147m... cash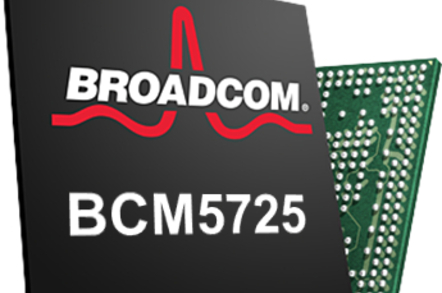 QLogic has signed a deal with Broadcom to buy some Ethernet assets and license its Fibre Channel IP.
The converged network controller maker is spending $147m in cash to buy:
some 10/40/100Gbit Ethernet controller-related assets and
non-exclusive licences to certain intellectual property relating primarily to Broadcom's programmable NetXtreme II Ethernet controller family.
Broadcom will become an ASIC supplier to QLogic in support of the NetXtreme II product line. It is expected also that "QLogic will license certain Broadcom patents under a non-exclusive patent license agreement that will cover QLogic's Fibre Channel products in exchange for a license fee of $62m."
Stifel Nicolaus MD Aaron Rakers says the implication of the FC IP licensing deal is that it settles any uncertainty over patent spats between Broadcom and QLogic. Broadcom recently launched a suit against QLogic rival Emulex. He mentions in his report that 170 employees will transfer to QLogic.
QLogic has a new CEO, Prasad Rampalli, who assumed that position and the QLogic presidency on 3 February, taking over from interim CEO Jean Hu who steps back to her CFO position. Rampalli left EMC, where he was SVP of the cross-business engineering function, in December last year, to join QLogic.
Rampalli said: "We are pleased to enter into this partnership with Broadcom. QLogic gains world-class technology, an immediate presence serving enterprise customer Ethernet controller needs and an important long-term partnership to deliver end-to-end solutions. Going forward, this acquisition will form the foundation of our Ethernet controller business and accelerates our time-to-market with leading-edge technology."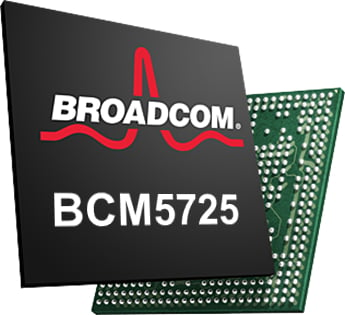 Broadcom NetXtreme BCM5725 controller.
QLogic thinks it could immediately gain about $45m in fiscal 2015 revenue.
As well as its Fibre Channel HBAs, iSCSI adapters and Converged Network Adapters (for FCOE), QLogic has a 3200 series of Ethernet Adapters (NICs) for TCP/IP offload.
Broadcom says its NetXtreme II 1 Gigabit and 10 Gigabit Ethernet controllers deliver high performance dual-port, single-chip C-NIC at 1Gbps or 10-Gbps rates, without requiring external packet memory. … [and] include on-chip TCP processing and iSCSI Host Bus Adapter (HBA) capabilities."
QLogic is clearly focussing more on Ethernet for future growth. Rakers said: "We believe access to Broadcom controllers could allow QLogic to become more competitive in the cloud market, vs its historical enterprise focus."
In a briefing call to analysts, reported by Rakers, Rampalli said that, in addition to planting a stake as a No 2 player in the Ethernet market, this is a platform for the company to offer more services – focused on the company's positioning for network convergence and the view that services such as dedupe, replication, encryption, acceleration/caching, and other capabilities can be tightly integrated into these offerings.
He added that this move should be considered a strategic decision to redirect the company's R&D efforts; these new solutions should complement the company's storage solutions in both FC and FCoE.
QLogic recently bought Brocade's Ethernet and Fibre Channel network adapter business for an undisclosed amount. ®
Sponsored: Detecting cyber attacks as a small to medium business