App-maker King hopes to CANDY-CRUSH $500m from IPO
You know what else is addictive? COLD HARD CASH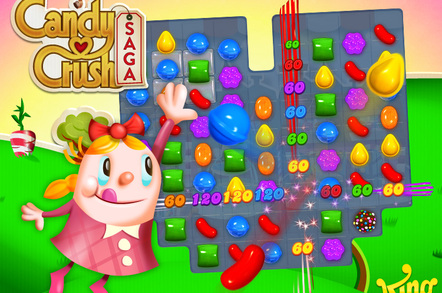 Candy Crush Saga-maker King Digital Entertainment has filed for an initial public offering on the New York Stock Exchange, which it hopes will raise $500m for the firm.
The Swedish firm had filed confidentially for its market debut with the Securities and Exchange Commission (SEC) in the US back in September under the relatively new Jumpstart Our Business Startups (JOBS) Act, which allows companies to keep their IPO plans under wraps for a while.
The game developer said it plans to list its shares on the NYSE under the ticker "KING", but the number of shares it's going to flog and the price range have not been settled on yet. Its initial filing says the firm plans to raise around $500m for the purpose of calculating registration fees, although the final size of the offering could be different.
King claims to have 324 million monthly unique users hooked on the likes of Candy Crush Saga and Bubble Witch Saga, games available on mobiles through the App and Play Stores and online via Facebook. The company said it offers more than 180 games in 14 different languages.
The games use the freemium model to make money, where the app can be downloaded for free, but players make in-app purchases for extra lives or play boosters.
King's top executives stand to make a tidy bundle in a successful IPO. Chief exec Riccardo Zacconi owns 10.4 per cent of the stock; chief creative officer John Knutsson and chief operating officer Stephane Kurgan hold 5.9 per cent and 2.5 per cent respectively; and the chairman of the board, Melvyn Morris, has a 12.2 per cent share. ®