Brit boffins brew up blight-resistant FRANKENSPUD
Fish and transgenic chips next on Norwich brainboxes' list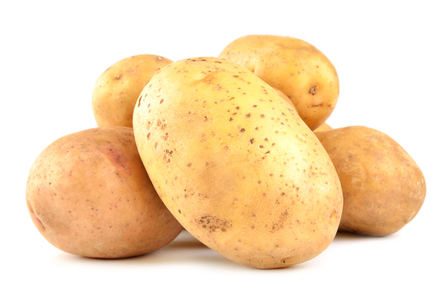 A team of British researchers has announced the results of test cultivation of a blight-resistant potato - a transgenic creation featuring a "gene isolated from a wild relative of potato, Solanum venturii, and introduced by GM methods into the potato variety Desiree".
For three growing seasons from 2010-12, scientists from the John Innes Centre and Cambridge University's Sainsbury Laboratory grew 600 GM Desiree plants which - thanks to the gene Rpi-vnt1.1 from their South American cousin - displayed robust resistance to late potato blight.
The trials took place inside a "securely fenced area" at the John Innes Centre in Norwich, where adjacent non-GM Desiree and Maris Piper plants were left to their fate.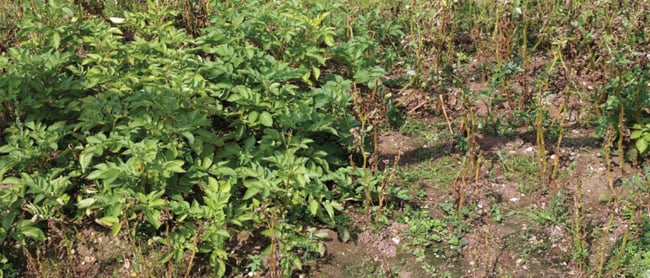 August 2012: GM Desiree plants (left) in rude health, while their non-GM counterparts look a little the worse for late potato blight
Described here as "one of the most devastating plant diseases", late potato blight is caused by the fungus-like organism Phytophthora infestans. It was partly responsible for Ireland's "Great Famine" between 1846 and 1851, and has persistently fought attempts to control it.
The team notes that Northern European potato farmers "typically spray 10–15 (and up to 25) times per year to control late blight". It says: "Plants harbouring late blight resistance genes may only require sprays for late blight towards the end of the season, which will reduce the associated costs and environmental impact substantially."
The alternative line of attack - to use Rpi genes from resistant wild potato relatives - is not new. The researchers note: "Breeders have typically introduced one Rpi gene at a time from wild relatives into cultivated potato. Each introduction is laborious and slow, and so far has resulted in an Rpi gene that is overcome by new P. infestans races in less time than it took to breed the new variety that contains it."
The scientists believe they can now build on their apparent success by "stacking" (combining) "multiple Rpi genes on one DNA construct" to mount a multi-pronged genetic defence against blight.
The ultimate success of this transgenic spud depends on various factors outside scientific control. EU approval is required before farmers here can reap the benefits, something which could take eight to 10 years, lead scientist Jonathan Jones of the Sainsbury Laboratory told the BBC.
The US market might see the GM Desiree on the shelves "within a couple of years", thanks to a licensing deal with Simplot. Professor Jones lamented: "I think it is unfortunate that American farmers are going to benefit from the fruits of European taxpayers' funded work way before Europeans."
In the end, though, the consumer will decide. Liz O'Neil, director of campaigning group GM Freeze, said: "Is anyone really going to grow, sell or buy genetically modified potatoes?
"The law says that they will have to be labelled GM. Experience shows that the UK doesn't want GM in its shopping basket, and British farmers are far too smart to grow something they can't sell." ®