First Data hoiks out custom Android point-of-sale fondleslab
US transactions giant muscles into mobe payments market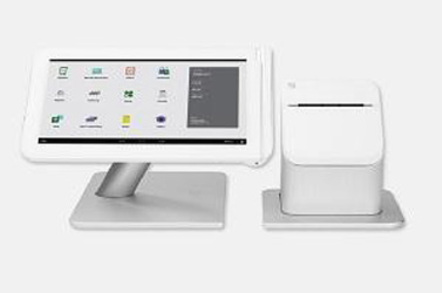 Around half US online transaction revenue goes through payments firm First Data's systems. They have such a large volume of transaction information they are used as an economic barometer by the US government.
In Europe they have 660,000 point-of-sale terminals, and nearly ten times that across the world. $58bn went through their systems last year. In the time it has taken you to read this paragraph they will have handled over £20,000. They are a big player in moving money.
First Data really understand payments, and to understand mobile payments they have taken on Marc Overton, formerly the head of the MVNO business at Orange and EE to be the co-General Manager for Europe.
From his new perspective, Overton says that the mobile operators don't understand either the risks of transaction revenue or the need to make retailers happy. He's looking to partner with mobile operators to be their back end for payments and to use the telcos as a route to market.
Much like Powa, First Data has gone down the route of custom hardware, and has bought the company Clover which makes an Android based tablet for point-of-sale uses. While it's "not a till, but a point of sale system", the unit has a screen and cash drawer. It's particularly targeted at small retailers such as hairdressers and restaurants.
Overton claims that smaller companies are losing out to the bigger ones who are getting better at customer loyalty. Your butcher might remember that you have a penchant for duck and orange sausages, but now so does your supermarket. The Clover system is aimed at tipping that balance back in favour of the smaller companies.
It costs $1,000 to buy a Clover point-of-sale terminal and $50 a month for the merchant services company' premium. Clover is looking for 50 European beta testers for its new system.
Overton dismisses the solutions that companies like Powa and Square use, which add small cheap hardware to iPads and Android tablets as not being industrial enough for the tough retail environment. The Clover system is ruggedised and will cope with a wide range of payment mechanisms, from swipe and chip & pin to scanning the QR code on the screen of the customer's phone with a fast focusing camera.
The hardware might be Android based, deep down, but it's custom at the front end with its own security. You can't download apps from Google Play; First Data has its own market place. They are seeking to encourage third party development with sponsored hackathons and will fund the development of apps which they think will make the devices more useful.
It already goes way beyond POS, with apps that pull weather forecasts to predict sales and set order quantities, stock control and payroll.
Matching the US scale in Blighty might be a real challenge for First Data, but then they are recruiting from the nation of shopkeepers.®