TGI Monday: Brocade profits up, Scality and Tegile fattening up
Not all that glitters is gold, but storage sure is pretty right now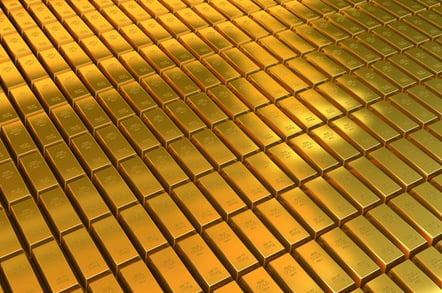 Tracking storage supplier and association news is like standing underneath a waterfall; you get deluged. Of course, the main stories stand out but there are lots of others that are worthy of note.
In alphabetic order we have:
Fibre Channel and Ethernet switch networking vendor Brocade announced strongly profitable results for its first fiscal 2014 quarter. $565m revenues were up on the prior quarter's $559m but down on the year-ago quarter's $589m. Profits were $81m. They were $64m last quarter ago and contrast strongly with the $21m loss announced a year ago.

Overall Brocade revenues are flatlining at the $2.25bn annual level over the past three years. Where is the company going in the face of a maturing Fibre Channel market and intense competition from Ethernet gorilla Cisco and other Ethernet product suppliers?
Analyst Jason Ader of William Blair wrote: "We expect Fibre Channel will be a shrinking market over the next several years. We applaud the new CEO and management's strong operational execution, as well as management's shareholder-friendly attitude ... However, the implication of four consecutive quarters of year-over-year revenue declines—and continued expectations of such—is inescapable and invariably drives our long-term view. ... Ultimately, the company will need to demonstrate that it is more than a cost-cutting story and is capable of growing the top line."

Diablo Technologies has achieved VMware Ready status for its MCS (Memory Channel Storage). This is the heart of the ULLtraDIMM technology - flash with DDR3 DIMM interface - produced by SanDisk's SMART Storage unit and OEM'd by IBM for its X6 servers.
Egnyte, an enterprise-focussed file sync'n'share startup, is expanding into Europe and says it has an answer to European privacy concerns, fuelled by the activities of the NSA (and the UK's GCHQ). The company is set to IPO in 2015.
Exablox is floating high with HGST's 6TB helium-filled Ultrastar He6disk drives which it's put inside its OneBlox appliance. It says it has the best cost/TB in the industry. Customers buy the drives and populate the box themselves, adding the 6TB drives alongside lower-capacity ones, such as 4TB drives. Scale-out OneBlox has an global object file system using a ring of nodes. Maximum node capacity goes up from c200TB to 300TB with, we think, 48 drive slots per node.
The FCIA has announced a Gen 6 32Gbit/s Fibre Channel (32 GFC) standard, doubling - of course - the present fastest Fibre Channel speed available, 16Gbit/s. Products may arrive in 2016. There's an n option to quadruple 32 GFC to 128GFC throughput.
Seemingly perennial loss-making Overland Storage announced (what else?) another loss-making quarter, but things are looking up. The ugly news is that revenues in its second fiscal 2014 quarter were $10.6m, the same as the previous quarter and $2m less than a year ago. There was a loss of $4.3m, marginally better than the first quarter's $4.6m loss, and the same as a year ago.

On the rosy side of things it's merged/taken over Tandberg Data, giving it "critical mass for profitability" - we'll believe that when we see it and be mightily relieved when it happens. Also, the Sphere3D relationship is getting stronger (Overland CEO Eric Kelly is chairman of Sphere3D's board) with Sphere3D's acquisition of V3 Systems Inc.
V3 Systems' products include Desktop Cloud Orchestrator software, which allows administrators to manage local, cloud-hosted, or hybrid virtual desktop deployments, and a V3 Appliance; a series of purpose-built, compact, efficient and easy-to-manage servers. So now Overland us getting into VDI - who isn't?

Oxygen Cloud has made a beta version of its odrive product available. It's a new take on file sync'n'share, achieving generalised file access by tacking a gateway onto a file server. The company says "odrive provides the easiest way to connect any user to existing Windows, Mac and Linux file servers." No files are sent to the cloud. The "odrive [product] installs on your file servers, lets you invite people with a simple email, and connects users with all the content they need, right on their desktops." Sign up for the beta at www.odrive.com.
Object storage startup Scality wants us to know that 2013 was a year of significant business and product expansion, with year-over-year bookings growth of 500 per cent, the addition of twelve major customers, significant product enhancements broadening the range of applications for Scality's RING, major industry recognition, and a $22m Series C investment.
Tegile, one of the three pumped up hybrid flash/disk array startups, saw a 300 per cent year-over-year revenue increase for its Zebi products. It says it has "a significant number of Tegile users becoming repeat customers, ordering multiple units." Its corporate HQ has moved to a larger office in Newark, Ca.

Tegile has also added FlashVols to its MASS architecture. These "are volumes that are pinned in SSD so applications run at maximum performance without the potential delay due to caching algorithms or tiering policies."

Tintri, another thrusting hybrid array startup, has gained $75m in its Series E funding round. Total capital raised is now $135m and Tintri says it's on track for an IPO:

"The funding will accelerate continued global expansion and technology innovation as well as help the company further scale operations and support its rapidly growing customer base. ... Since launch, Tintri has consistently exceeded triple digit growth year over year ... The company completed 2013 with 115 per cent year over year growth while more than doubling its enterprise customer base worldwide. ... close to 70 per cent of Tintri customers made repeat purchases averaging 2.5x of their initial order."

Solidfire's all-flash array has been verified as Citrix Ready for Citrix XenDesktop. This builds on last November's announcement of support for VMware VDI.
VMware hypervisor cacher PernixData announced its support for VMware vSphere 5.5 and vSphere Web Client. It also announced PernixDrive, a technology alliance program that brings vendors together for advancing server-based flash storage architectures.
WD, the twin to HGST in the overall Western Digital company, has announced version 10.2 of its Arkeia network backup software, featuring scalability improvements in its Progressive Deduplication technology. It reclaims orphaned deduplication blocks incrementally without needing a dedicated maintenance window.
®
Sponsored: Becoming a Pragmatic Security Leader