Google, Apple pop a cap in that Flappy Birds crapp app flapp
Devs claim the tech titans are trying to shut this thing DOWN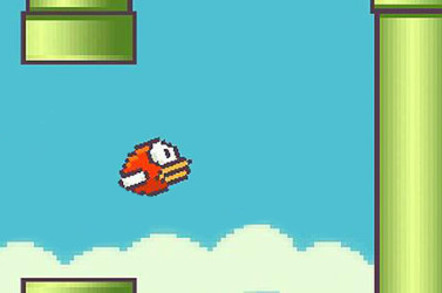 Apple and Google have apparently launched a campaign to shut down the fledgling Flappy Bird clone industry after banning copycat games from app stores.
A number of devs have claimed their Flappy apps have been rejected from both the Apple app store and Google Play.
After Dong Nguyen removed Flappy Birds from both app stores, a number of other firms have released clones and other games borrowing aspects from of the hit game.
Sadly, both Google and Apple have told everyone to stop flapping around and be a bit more original.
Ken Carpenter, of the development studio Mind Juice Media, took to Twitter after Apple rejected his game Flappy Dragon.
He tweeted:
This is just not my fucking week: Rejected. "We found your app name attempts to leverage a popular app." Which app? FB doesn't exist!?!?!

— Ken Carpenter (@MindJuiceMedia) February 15, 2014
Paul Pridham from Mad Garden is mulling whether to ditch his game Flapthulhu altogether, after hearing about the ban. He believes that even the perfection of Flappy Birds 1.0 can be improved and tweeted:
@ShaineKruel Imagine if we were stuck with the initial crappy version of everything that made it to market first. Nobody allowed to improve.

— Paul Pridham (@madgarden) February 17, 2014
Fans of all things flappy need not worry, because a game called Flappy Bee is still for sale on Google Play.
In fact, a whole host of flappy-esque games appear to be on offer, including two separate games called Flappy Turd - both of which involve steering a brown poo and avoiding pipes.
El Reg's personal fave is Flappy Bieber which, you guessed it, involves guiding the pint-sized pop picker over the red carpet while avoiding "girls, cops and the paparazzi". We're not sure what the creators are implying by Bieber's choice of enemies.
Other games include Flappy Hipster, Flappy Beard, Flappy Nerd and Flappy: The Flappening.
Apple's offering are thinner on the ground, but include a breathtakingly inventive homage called Fluffy vs Flappy Birds.
Are you in a flap after your game was rejected? Let us know. ®