Buy IT Direct: Sales up by a third, but IT kit NOT behind boom
Kitchen stuff, baby products - everything but computers behind the boost – CEO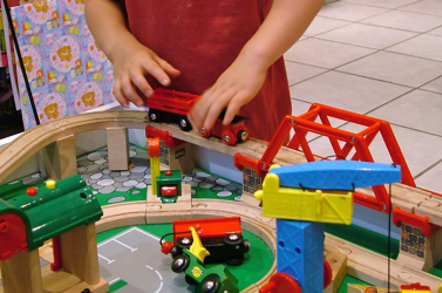 Buy IT Direct, one of the last major independent tech e-tailers of size, pushed up turnover by more than a third in '13 but told us demand for kitchen appliances and baby products were largely behind the bounce.
Revenues for the Huddersfield-based online trader climbed 34 per cent to £93.4m in the year to 31 March 2013, according to a filing at Companies House, and operating profit leaped 15 per cent to £454k.
"Laptops stayed steady," said Nick Glynne, Buy IT Direct chief exec, "but most of our competitors have withdrawn from the consumer market, dabs.com is hardly playing there and many others have gone to the wall".
The reason, he reckons, is the Amazon effect. "Amazon's proposition is price and availability, and if you can't add value, if you are taking product feeds from a distributor and listing them on a website, you are finished".
And the value he reckons, in his firm's case at least, is running a call centre "offering advice" to punters that are confused purchasers, having a small retail store at HQ, and service provision including installation, albeit of cookers and washing machines.
Buy IT Direct has a bunch of distinct divisions - laptops, servers, TVs, kitchen appliances, furniture and baby products, air con and surveillance cameras - but Glynne refused to tell us how those are split in revenues terms.
"We did well on appliances," he said, "consumer IT is changing and I don't look any longer for significant revenue increases [from it], I don't want it to decline but we have other product categories that will rise faster".
Glynne said it had captured some of the shift in demand from low-cost notebooks to slabs but complained the independent online channel has been practically shut out by Apple and Samsung.
"They don't think we are there to add value, just to trash the price. They don't want to disrupt the [traditional] retailers," he claimed. The price difference was up to £25, Glynne said.
"How can I build massive growth [in tablets] when [Apple and Samsung] penalise the online channel by giving retailers better pricing, and get round it by calling it a rebate," he argued.
If the shift toward white goods sales continues, a name change may be on the cards for Buy IT Direct. Suggestions on a post card please.
Stuart Carlisle, managing director at Ebuyer, agreed with Gynne's prognosis on tablet sales "100 per cent".
"I don't know why they both follow this route, they must have agreements with the retailers that we don't know about, and in [the case of Apple] it also has its own online presence," he said.
The folk behind eBuyer also branched out into other product streams a couple of years back, and run a separate online kitchen appliances retailer.
Apple and Samsung did not comment. ®