Flash fettler Fusion-io on VDI: Veni, vidi ... not sure about the last bit
Because we just don't have enough VDI gear on the market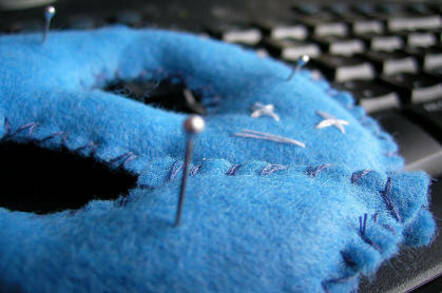 Server flash fettler Fusion-io is the latest supplier to try to crack the make-VDI-popular nut with its ioVDI software, which combines server-side flash with shared storage.
The ioVDI software is typical, in one sense, of many VDI-accelerating products, using server-side flash caching to speed the system's responsiveness. Fusion-io says its product is better than the rest (storage consultancy ESG reckons it comes in at under $125/desktop) and it features:
Write Vectoring to monitor and direct transient, session-based desktop writes to server flash, with persistent desktop writes are sent to shared storage
Transparent File Sharing to enable many hosted virtual desktops to simultaneously share common files. This accelerates reboot times
Dynamic flash reallocation optimises flash performance across desktops during migration instances
Fusion-io states that "by limiting shared storage interaction to the small number of writes that persist between login sessions, Write Vectoring preserves the use of VMware value-added features such as vMotion, HA, DRS, and SRM that require shared storage while substantially reducing SAN or NAS performance dependencies."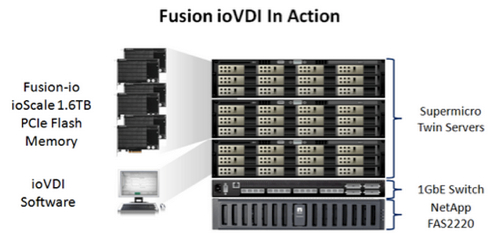 ESG chart showing ioVDI in action.
An ESG validation document says: "Write vectoring recognises the existence of transient desktop writes that never need persistence, including page file I/O, temporary files, and browser temp data. Essential desktop writes such as auto-saves and user data updates are directed as expected to shared storage for protection and HA."
Concerning Transparent File Sharing (TFS) it says: "VMware Horizon View Storage Accelerator can use up to 2GB of RAM [and] Transparent File Sharing optimises performance by rapidly sharing common files throughout the VDI infrastructure."
TFS provides inline, file-level deduplication of all desktop data hosted on a server, according to ESG.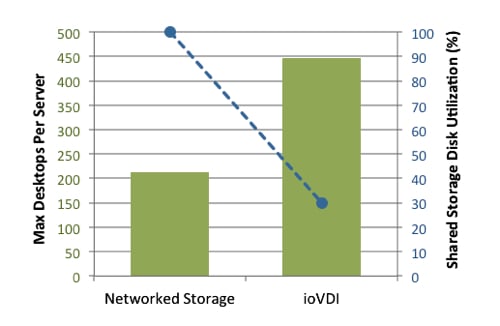 ESG Chart showing effect of ioVDI.
ESG testers noted:
Excellent performance in a 1,000 seat virtual desktop environment built using low-end commodity NFS storage over legacy 1Gb Ethernet
Consistent, predictable response times of less than 200 microseconds as measured with Login VSI over multi-hour test runs. A Windows 7 desktop accessed from an iPad was extremely responsive
Back-end storage traffic was reduced by 90 per cent overall, measured at the disk, with 60 per cent of write traffic offloaded from the back-end storage
Fast, consistent boot times under full load of 8-12 seconds, while running 1,000 desktops
Boot times and desktop responsiveness were observed to be faster than an SSD-equipped laptop
"Fusion ioVDI delivers the persistence, performance, and HA of storage-side solutions with the cost-effectiveness and simple deployment model inherent in server-side solutions," according to ESG. The consultants also think Fusion-io best practice is to pair ioVDI with dedupe-capable primary storage which is also compliant with vStorage API for Array Integration (VAAI).
What about cost? In ESG's words, "using online sources for pricing of the components used in the test bed, ESG lab confirmed that virtual desktop infrastructure could be provided at a cost of less than $125 per desktop."
We understand a VMworld 2013 demo of the technology used a NetApp FAS2200 array with 24 x 400 disk drives configured in a RAID DP set-up. They were exported with NFS over a 1GigE wire. The array's ONTAP software provided deduplication and cloning tools.
Fusion saw "actual disk usage of less than 500GB for 1,001 Fully-Cloned Windows 7 desktops with 32GB disks."
There was "10 per cent utilisation of the NFS volume with 5TB left free ... The NetApp disk and CPU utilisation idled around 2-4 per cent once all 1001 desktops were fully booted. Without ioVDI the network was fully saturated and the NetApp disk and CPU utilisation were totally consumed."
Is this better than VDI-accelerating hybrid arrays from Nimble Storage, Tegile and Tintri, the Violin-Atlantis ILIO set up, or GreenBytes' VDI-accelerating software? You'll have to do comparative testing.
A thousand VDI instances run off an entry level FAS array is impressive, even if it was a tradeshow demo system. Now you can try out the real thing and see if Fusion-io's tech voodoo has built a magic carpet for reliable, affordable and fast-performing VDI systems.
The ioVDI software is available now, either stand-alone or as an integrated system combining ioVDI software and ioMemory flash, through Fusion-io channel partners at a manufacturer's list price of $50 USD per desktop. ®
Sponsored: Detecting cyber attacks as a small to medium business