Apple investor Icahn backs down on share buyback plan
Meh, Apple's 'ALREADY close to fulfilling... repurchase target'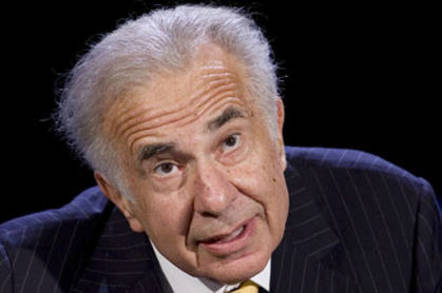 Activist investor Carl Icahn has laid down his sword and given up the fight to persuade Apple to launch a $150bn share buyback.
His surprise capitulation comes after influential proxy firm ISS advised investors to vote against Icahn's proposal for Apple to buy back its own – thus allowing shareholders to get their mitts on some of its mountain of cash. Another proxy advisory firm, Egan-Jones, also advised against the plan.
In an open letter to Apple shareholders, Icahn noted that Apple had already committed to a $32bn buyback. Icahn writes:
As Tim Cook describes them, these recent actions taken by the company to repurchase shares have been both 'opportunistic' and 'aggressive' and we are supportive. In light of these actions, and ISS's recommendation, we see no reason to persist with our non-binding proposal, especially when the company is already so close to fulfilling our requested repurchase target.
ISS said in a report for shareholders, seen by Reuters, the Wall Street Journal and others, that Icahn's previous proposal would "micromanage" how Apple uses its money.
"[The Apple board] has returned the bulk of its US-generated cash to shareholders via aggressive stock buybacks and dividends payouts," the report said. "In light of these good-faith efforts and its past stewardship, the board's latitude should not be constricted by a shareholder resolution that would micromanage the company's capital allocation process."
However, the advisory firm wasn't entirely on the fruity firm's side, as it also said that Apple's buyback scheme so far, which has seen $14bn put into shares, was a bit "like bailing with a leaky bucket".
Icahn has been agitating for the last few months to get Apple to commit to a $150bn buyback, which he had insisted the company could more than afford.
The activist investor had even said that if Apple doesn't want to pay the necessary taxes to repatriate some of its overseas cash money, it should borrow the money for the buyback programme and take advantage of historically low interest rates.
Icahn has kept up the pressure by buying more and more Apple shares, recently upping his stake to $3.6bn, and periodically tweeting about how great the company and its stocks are and how it should get with his programme
Chief exec Tim Cook said last week that Apple had repurchased $14bn in stock, to which Icahn responded on Twitter:
$GOOG @ 19x2014 est operating profit. At same multiple $AAPL=$1,245 per share. Ridiculous. Keep buying Tim! You still have $145 billion cash

— Carl Icahn (@Carl_C_Icahn) February 7, 2014
®
Sponsored: What next after Netezza?