Report: IBM to peddle its chip wing
Big Blue looks at chip division, then chopping block, then chip division, then ...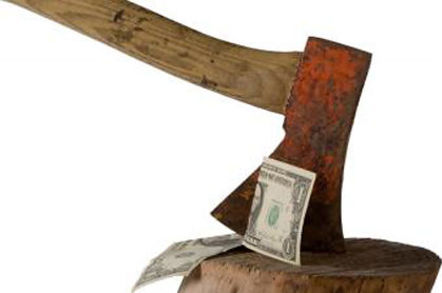 IBM is rumored to have retained Goldman Sachs to help it put a price on its semiconductor division.
The news was reported by the Financial Times on Thursday afternoon, California time, and follows IBM's long-expected announcement of the sale of its server division to Asian electronics giant Lenovo.
At the time of writing neither Goldman Sachs nor IBM could be contacted for comment on the move.
IBM has appointed Goldman Sachs to try and get a price on the business and find potential buyers, according to the Financial Times.
IBM is currently battling strong headwinds in the global technology market as the IT giant tries to meet Wall Street expectations of larger revenue and stronger earnings-per-share.
In recent earnings reports, however, the company has been shown to be weighed down by its low-margin hardware divisions, such as storage and chips, and its more lucrative software and services wing is growing at a far slower rate.
This week it was reported by Bloomberg that IBM had funneled its profits through a Netherlands subsidiary to reduce its effective tax rate to please Wall Street. A day later, trade union Alliance@IBM claimed that IBM was planning to spend $1bn this year to eliminate a further 15,000 jobs worldwide. ®
Sponsored: What next after Netezza?