The job-eating predator VMware users fear is ... VMware
Who needs wetware in an automated, software-defined data centre?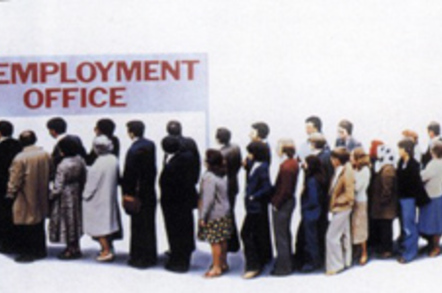 "What's the best way to get promoted?" VMware engineering architect Scott Lowe asked the Melbourne VMware user group (VMUG) conference this week. "Make yourself replaceable," came the answer from the floor, earning a big tick from Lowe.
Lowe asked the question in a presentation titled "Preparing for the software-defined data centre" that didn't offer a a technical approach to the topic. Instead, Lowe suggested the march of virtualisation into the network means abstraction, consolidation and automation are coming to the network. Once those three things happen, he says, IT pros clearly have a little less to do. Maybe so much less that their jobs disappear into a management layer.
Lowe's Melbourne presentation was one of three at the Melbourne VMUG conference pondering career futures for IT professionals. Another saw Daryl Bishop from VMware advisory services explain that industry worldwide has, for decades, sought to reduce production costs – especially wages - by automating tasks that once required hands-on labour. A third speaker, consultant Justin Warren, explained how industry uses automation to drive standardisation, a trend made flesh by the first rolling production lines and now found in the rise of templates for virtual machines automatically deployed onto standard servers. IT professionals, he suggested, are now like the first batch of auto-workers inasmuch as their hands-on skills are becoming less important thanks to automated systems simply requiring less human intervention for the tasks.
That all three speeches took place at a VMUG was ironic: the faithful who assemble at such events are generally fond of Virtzilla. Being told VMware's ambition to automate clients' software-defined data centres might threaten their livelihood raised eyebrows in the three talks, all of which were well-attended.
Happily, the talks also offered some remedies. Warren and Bishop suggested developing managerial and/or marketing skills as ways to move up the ladder, perhaps by helping the seldom-cordial conversation between business and IT to become more fluent.
In Melbourne Lowe offered the view that being the one who drives automation marks you out as ready to climb the corporate ladder. But as one chap in Warren's session said, lots of people don't want to be managers, if only because "If a server pisses you off, you can turn it off." That's an approach that probably doesn't go down well in meetings.
Happily, Lowe offered another idea in his Sydney VMUG conference session two days later, suggesting that that the spread of virtualisation into the network and storage means IT pros who currently specialise in compute, networking or storage have more in common these days. Learning a little about all three areas, he suggested, will be more than useful in the near future, as will be positioning oneself as able to play across all three. Specialisation in one area will remain valuable, he opined, but silos within IT departments are bound to break down to create teams with less demarcation between roles. ®
Sponsored: Becoming a Pragmatic Security Leader