We're NOT DOOMED after all: Global semiconductor sales post record 2013
Tops $300bn for first time – now don't muck it up, Obama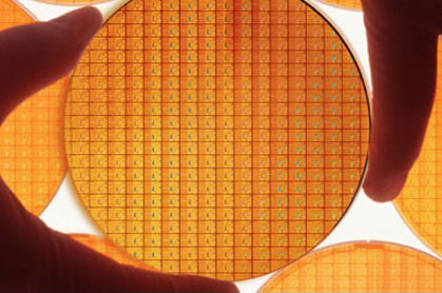 The PC business may be imploding and large chunks of the global economy may still be struggling, but you wouldn't know it from last year's worldwide semiconductor sales – they topped $300bn for the first time in history, according to the Semiconductor Industry Association (SIA).
For the full year, the industry raked in $305.6bn, the highest sales total ever, which was a bump-up of 4.8 per cent above 2012's $291.6bn take. Fourth-quarter sales were particularly strong at $79.9bn, up 7.7 per cent year-on-year from $74.2bn during the same period in 2012.
"The global semiconductor industry exceeded $300 billion in sales for the first time ever in 2013, spurred by consistent, steady growth across nearly all regions and product categories," said SIA president and CEO Brian Toohey in a statement. "The industry finished the year on a strong note with its best December on record, indicating that recent momentum is likely to carry over into 2014."
According to the SIA, logic chips ate the largest slice of the semiconductor pie with global sales of $85.9bn, up 5.2 percent from 2012. Memory sales – the fastest-growing sector with an increase of 17.6 per cent year-on-year – were second at $67.0bn, and MOS micro-ICs were third at $58.7bn.
DRAM sales were the star of the memory show, with a year-on-year increase of 33.3 per cent. Although NAND flash was well behind DRAM with growth of 8.1 per cent, that figure still handily beat the overall 4.3 global growth rate.
At 13.1 per cent, semiconductor sales growth in the Americas was more than triple that of the world as a whole. Despite its economic troubles, Europe was also above average with growth of 5.2 per cent, as was Asia Pacific at 7.0 per cent.
Japan bucked the trend, however, with negative growth of minus 15 per cent, a dive that the SIA chalked up in part to the devaluation of the yen.
The SIA's headman seized the opportunity of the report's release to do a bit of lobbying of the US government. "Policymakers can help maintain and expand this growth by enacting policies that promote innovation and open markets," Toohey argued.
"President Obama expressed support for several pro-growth policies – including basic research funding, immigration reform, and meaningful trade agreements – during his State of the Union Address last week," he said. "For the Administration and Congress, now is the time for action on these critical policy priorities." ®
Sponsored: Becoming a Pragmatic Security Leader