Google invades videoconferencing market with Chromebox for Meetings
Wants to put $1,000 device in every meeting room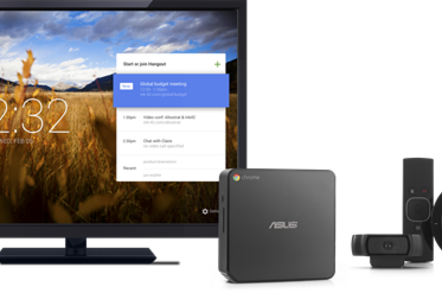 Google is making a play for the videoconferencing market – and hoping to get ChromeOS to be more widely used – with a special version of its Chromebox desktop computer designed specifically for remote meetings.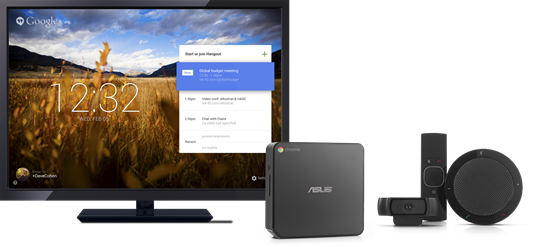 $1,000 – display not included
"Meetings rooms haven't really changed that much for last 25 years. Even when you want to change one by adding videoconferencing it turns out to be incredibly expensive and very complicated," Google VP of product management Caesar Sengupta told The Register.
"Over the years we've learned a lot about video meeting systems because we put them in our rooms on campus, and based on that, we've built a complete video meeting system that runs on top of Chrome hardware, and that's what we've bought to market at a fairly disruptive price."
That price is $1,000 and a $250-per-year service charge, which gets you a Chromebox system using a Core i7 processor to handle the heavy codec load, plus HDMI and DisplayPort sockets, four USB 3.0 ports, Ethernet, and 802.11 a/b/g/n wireless connections. Also included is a fixed HD 1080p camera, a remote control with a keyboard built onto its back, and an omnidirectional microphone/speaker unit.
The system can handle calls from up to 15 other participants, and outsiders without the hardware can dial in via a Gmail account, or use other videoconferencing systems running H.323/SIP protocols using a plugin from Vidyo. Laptop screens can be added for viewing wirelessly, and telephone users can also dial in for audio conferences.
Sengupta said setting up the device was "as far from complicated as you can get," and at that price he expected to see companies of all sizes adding videoconferencing to their meeting rooms. But, if the last few decades are anything to go by, he could be in for a long wait.
Back in 1994, PictureTel started selling videoconferencing kits, consisting of a circuit board for a PC, a camera, and an ISDN line. Since then, many manufacturers have tried to make videoconferencing popular, with a notable lack of success.
For many years call quality was the biggest issue – getting chips powerful enough so the units' codecs wouldn't introduce speech lag, and getting communications lines good enough for the video. But even with these issues largely fixed, there seems to be a human problem behind the lack of uptake in videoconferencing.
That said, Google's going all in with the Chromebox, and Dell and HP will ship their own versions in the next few months. Launched on Thursday in the US, Google's system will be available in Australia, Canada, France, Japan, New Zealand, Spain, and the UK next year, and Sengupta said that channel sales would be a big route to market for the firm. ®