Think British weather is bad? It's nothing to this WOBBLY ALIEN planet
Crap changeable weather not worst of 413b's problems: there's no surface to stand on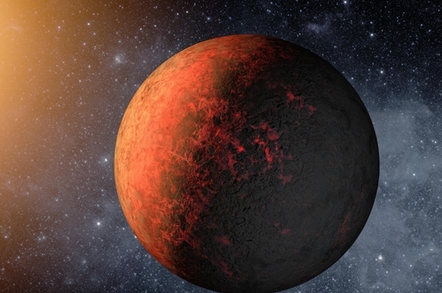 Imagine a world where the weather is even more erratic than it is in old Blighty, where - famously - four seasons in one day aren't uncommon. Such a world is Kepler-413b.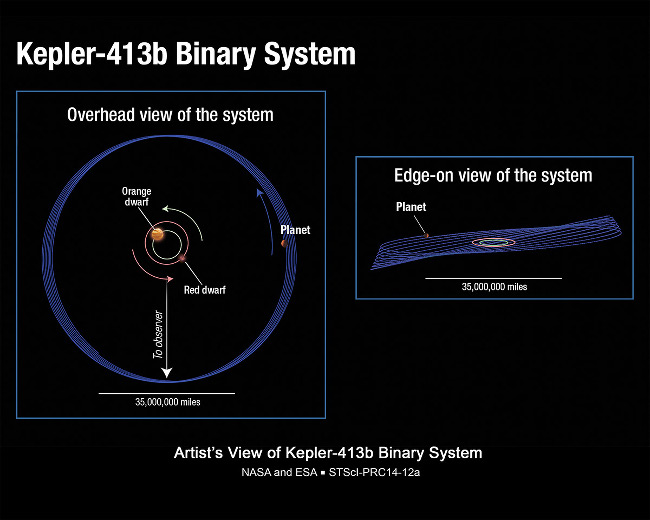 The tilt of this weird and wobbly world can vary by as much as 30 degrees over 11 years, leading to completely erratic seasons compared to Earth, whose rotational precession is 23.5 degrees over 26,000 years.
NASA's Kepler space observatory spotted 413b around 2,300 light-years away in the constellation Cygnus, orbiting a close pair of orange and red dwarf stars every 66 days. Aside from spinning on its axis, the planet's orbit around its stars also seems to wobble because the plane of its orbit is tilted 2.5 degrees compared to the plane of the twin suns' orbit - making the world appear to bob up and down when viewed from Earth.
Kepler's method for spotting planets, by noticing the dimming of stars when a world travels in front of them, is also how astroboffins spotted the irregular wobbling of 413b.
"Looking at the Kepler data over the course of 1,500 days, we saw three transits in the first 180 days - one transit every 66 days - then we had 800 days with no transits at all. After that, we saw five more transits in a row," said Veselin Kostov of the Space Telescope Science Institute and Johns Hopkins University, the principal investigator on the observation.
The next time anyone will get an opportunity to spy Kepler 413b will probably be in 2020, because the orbit moves up and down so much that it doesn't appear to cross the stars from Earth.
Astronomers don't know what could cause a world to be so wildly out of sync with its suns, although it's possible that other planets in the system have tilted its orbit or that a third star is nearby and its gravity is affecting the system.
"Presumably there are planets out there like this one that we're not seeing because we're in the unfavourable period," said Peter McCullough, a team member with the Space Telescope Science Institute and Johns Hopkins University. "And that's one of the things that Kostov is researching: Is there a silent majority of things that we're not seeing?"
Luckily for any would-be space explorers, they won't be required to experience the erratic climes of Kepler 413b as it's too warm for life as we know it. It's also too close to its suns for liquid water to exist and it's a super Neptune - a giant gas planet - so there's no surface for anyone to stand on. ®
Sponsored: Beyond the Data Frontier