Dell's fellow from Big Blue heads up blue sky division
Former IBM man Menon leads R&D unit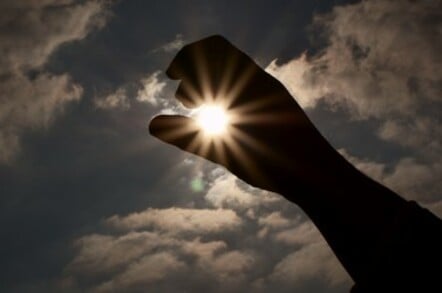 Comment A now-private Dell appears to have set up a Research Division headed by IBM import Jai Menon.
Menon, a former IBM fellow, joined Dell in October 2012, becoming the chief technology officer at Round Rock.
Now several reports, here and here for example, say he has been given the role of big boss of the R & D Division inside Dell.
We have gleaned that Menon is VP, head of Dell Research, and its Chief Research Officer - CRO, a new CxO moniker for us. His LinkedIn profile says he took up that role in June 2013.
It also says: "The goals of Dell Research are to deliver organic, long-range, disruptive innovation into Dell's products and solutions, work on collaborative research with leading universities, and create a long-range technology outlook to help inform Dell and Dell Research strategy and projects."
So Dell is upping its R&D game which has been, some would say, so quiet in the past as to be non-existent. As the company has acquired others in the last five years it has gradually increased its R&D efforts so as to bring the new business's development efforts into a more coherent whole.
This appears to have resulted in a brand new Research Division aimed at developing product technology directions for Dell's small and medium customer base, its heartland. Of course Dell's products scale both higher and lower. Menon's division will look ahead, three to four years out and even further.
It will also centralise research efforts so the EqualLogic views on security mesh with Compellent's and with the server folks and the networking business. Menon says it will also track disruptive forces and focus on research around them, creating a Dell-oriented technology outlook, for example looking at BYOD security and productivity. He'll partner with universities to accomplish the research.
Menon is interested in next-generation non-volatile memories that will enable real-time data analysis for Dell's SME customer heartland, retail pharmacist drug interaction analytics was given as an example. Predictive security and homomorphic encryption have been mentioned by Menon as security focussed areas of interest.
The Research division will have operations in Austin and also the Bay Area plus outposts in India, China and other countries. Headcount and budget has not been revealed.
Menon's R&D Group will need several years before it has a tangible effect in deliverable products but it should have visible influence inside Dell before that. His division's Technology Outlook could be guiding Dell's engineering efforts and acquisition strategy already for all we know.
A constant problem will be keeping the division's research feet on the ground and not ballooning up into blue sky stuff that is interesting and fascinating but just not practically relevant. Hopefully the division can take the firm in new directions, developing some home-grown tech that will help grow the business.
It's good to write a Dell story that's not about job cuts. ®
Sponsored: Minds Mastering Machines - Call for papers now open