Apple's nonexistent iWatch to bag $17.5 BEEELION in first year alone – analyst
iPhone? Dud. iPad? Meh. Wristable shiny-shiny? Now we're talking real money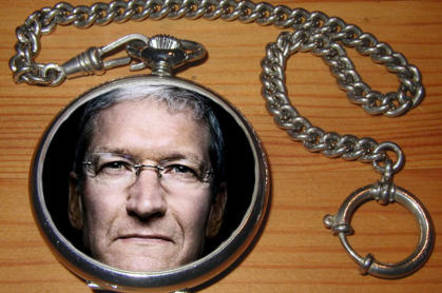 Apple CEO Tim Cook has been relentlessly repeating to world+dog that fanbois should expect new kit in entirely new product categories this year, and now one analyst has come out with a prediction of what at least one of those items could bring to Apple's top line in the first year of its existence: a cool $17.5bn.
Morgan Stanley analyst Katy Huberty has told the investors who follow her prognostications that sales of a new wearable such as the oft-rumored iWatch could outpace those of both the iPhone and iPad during their first years of availability, Cnet reports.
For those of you who can't remember back that far, the iPhone was not exactly a barn burner when it came out of the gate, raking in a "mere" $2.5bn during its freshman year. The iPad did far better, primed as it was by the success of the iPhone and the entire iOS ecosystem – it pulled in around $12bn in its first 12 months.
If the iWatch sells for $299, Huberty calculates, the fanboi take-up of that new piece of shiny-shiny could total around $17.5bn in 12 short months. If, as others have suggested, the iWatch will sell instead at what many vendors regard as the "magic" impulse-buy price-point of $199, that figure would drop to just under the iPad's inaugural $12bn.
Which, let's be honest, would not be too shabby, not too shabby at all.
But is Huberty to be regarded as an appropriately effective oracle? Well, she recently predicted that Apple would sell between 54 and 55 million iPhones and 26 million iPads in its first fiscal quarter of 2014. Her iPhone prediction turned out to be a bit optimistic – Apple moved just 51 million iPhones and was subsequently punished by Wall Street – but her iPad prediction was spot on.
The most recent iWatch rumors that we've heard have pegged its release date to be October of this year. See you in October 2015, when we can compare notes with those of Ms. Huberty. ®
Sponsored: Detecting cyber attacks as a small to medium business