US feds want cars conversing by 2017
A few privacy, security wrinkles to iron out before collision-avoidance tech saves your life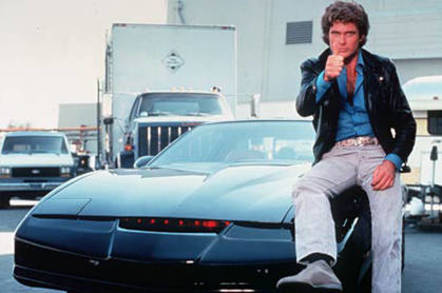 New US cars and light trucks will soon be equipped with crash-avoidance vehicle-to-vehicle (V2V) communications systems, says the US Department of Transportation's National Highway Traffic Safety Administration (NHTSA).
"Vehicle-to-vehicle technology represents the next generation of auto safety improvements, building on the life-saving achievements we've already seen with safety belts and air bags," said US Transportation Secretary Anthony Foxx when announcing the decision on Monday.
The V2V capabilities currently under consideration are mere warning systems, the NHTSA emphasized in its announcement, noting that their purpose is to alert drivers so that they can "prevent imminent collisions" by gathering speed, position, and direction information about vehicles within a few hundred feet, collected ten times per second. The systems won't be able to automatically kick in any defensive maneuvers such as braking or steering.
That assurance should help alleviate your fear of some mischief-making miscreant taking control of your car – for the time being, at least. The NHTSA says that it is also investigating "active safety technologies that rely on on-board sensors" that'll work in conjunction with V2V systems.
Exactly how close that cooperation of onboard sensors and V2V communication will be is not yet known, but the NHTSA does say that the systems they're planning will have "several layers of security and privacy protection" to not only ensure that no one can take control of your car, but also so that your private info will be kept private.
In these days of a snoop-crazy National Security Agency, however, exactly how well that privacy will be kept secure is, of course, an open question – as is the range of data that the in-car data systems will collect, distribute, or store.
For their part, some of the folks who make the cars in which such systems would be installed, as represented by the Auto Alliance, issued a statement on Monday generally in support of the V2V policy. They did, however, express some reservations.
"What remains to be addressed is security and privacy," the Alliance wrote, "along with consumer acceptance, affordability, achieving the critical mass to enable the 'network effect' and establishment of the necessary legal and regulatory framework."
In a news conference outlining the announcement, The Wall Street Journal reports, Secretary Foxx didn't provide a timetable as to when such V2V systems might be required in all new vehicles. He did say, however, that "Our goal is to have a proposal that will be developed before the administration closes its doors."
That would be in late January 2017, unless some of the country's more rabid right-wing politicos get their way. ®