Is modern life possible without a smartphone?
Reg man dumps Galaxy S4 for 2.5G feature phone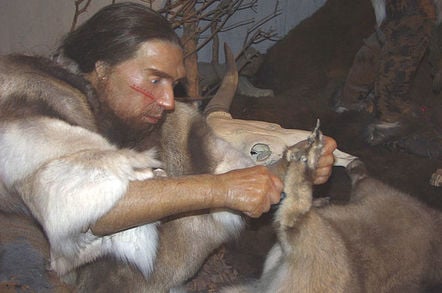 Mobility Archaeology I suppose the first sign I might have a problem came when one of my kids drew me a picture of my iPhone as a Fathers Day present.
I scaled things back pretty quickly after that, but my current smartphone still finds its way into my hands many, many, times a day.
Sometimes I tell myself it's just diligence: working ten time zones away from Vulture Central means I'm being a good team member by checking email a lot. To keep the conversation flowing, you understand. And checking news sites well into the evening means I won't miss an important event.
I know that's mostly bollocks, but still find it hard to let myself fall a little more out of touch.
So I've decided to force myself to disconnect a bit by buying a feature phone and using it throughout February. My Galaxy S4 will go into a deep, dark, drawer for the duration. I've nothing against it or Samsung. But this experiment needs doing.
While the G4's away, I will tackle a rather busy month during which I will undertake my usual many meetings and interviews, plus attend two conferences outside Sydney, armed with a Nokia 110.
I chose that handset after venturing into an office supplies store's sub-$AUD50 section. The $35 phones like the Nokia 101 or Samsung E1205 appealed until I worried that they couldn't even sync my calendar, a loss I felt would be crippling.
At $38 the Samsung Champ Neo Duos caught my eye because it at least offered a touch screen, albeit a resistive creature. I decided a touchscreen would replicate the smartphone experience to an unwelcome degree, even if it did so badly.
The 110 seemed just right because its $48 price tag bought me a 1.8in, 160x128, 16-bit screen capable of displaying 64,000 colours, a numeric keypad, Bluetooth, an MP3 player and the glory of a .3MP 640x480 still and video camera. Ten whole megabytes of memory and a micro SD card slot round out the hardware side of things.
Baked-in software included a browser, plus native email, Twitter and Facebook clients. A voice recorder appealed to capture interviews, while tools to synchronise calendars and contacts appealed. More on those later. There was even a Golf game!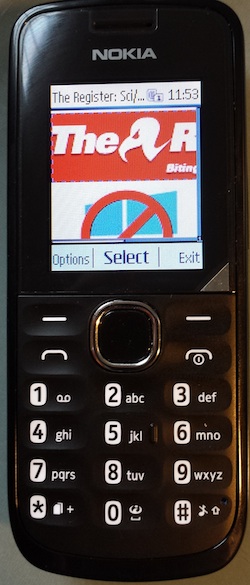 I was happy enough with that feature list because it meant that I could withdraw from the online world but retain a lifeline. The MP3 player meant I could load it up with music and Bluetooth meant I could still chat in the car, or battle for control of its stereo.
Setting the phone up was easy. I popped my SIM into the phone, downloaded some internet settings from my carrier and got down to business. The mail client spoke to The Reg's email and my personal domain's Google apps email account happily, but the on-screen results were far from stellar. Entering text was a monumental pain in the posterior. My passwords mix capitals, numerals and punctuation and each took a minute or more to enter on the first attempt. I quickly dispelled the idea of ever composing anything other than very, very, brief messages.
The phone is horribly slow. Opening an app leads to about 30 seconds of progress bar watching as the handset's wimpy CPU and skimpy RAM go about their business. Then there's the wait for data, which at the peak advertised 2.5G download speed of 236.8 kbps means even a modest list of new emails takes another 15 or so seconds to appear.
Syncing contacts and calendars turned out to be impossible. The 110 says it is SyncML-friendly. Practice proved otherwise. Nor could the contacts app ingest .VCF or .CSV files (although at least loading those to the phone's SD card was easy with Bluetooth file transfer).
A couple of hours searching the net for utilities or services to get the calendar syncing was not enough to find a fix. I instead set my calendar so it texts me appointments, and resolved to insert lots of detail into calendar items. I also typed in plenty of phone numbers!
I quickly learned that the browser is next-to-useless. To understand why, consider this shot of m.theregister.co.uk.
And before you complain: yes, I know we could dynamically reformat the site to fit the 110's screen. I dare you to ask the developers and their managers to do it!
Overall I feel like this is a functional rig but also far from ideal, not least because Reg writers are required to have a device capable of connecting our computers to the internet in case we're either working remotely or the office internet connection goes titsup. Going with a 2.5G GPRS phone therefore means I also need a WiFi gewgaw in my man-bag. Vodafone kindly loaned me a new 4G machine I'll test in another article. The 110's camera is rubbish, so my Canon Ixus 100 IS will also nestle in the man-bag for a month. I imagine the 110's charger may need to come along, too, just to make sure I can always juice up, because the phone lacks a USB connection that could leech from my computer.
In a couple of weeks I'll share the initial experience of reverting from a smartphone to a feature phone. Wish me luck! ®