The future of storage: disk-based or just discombobulated?
You want disk tech innovations? We got 'em, lots of 'em.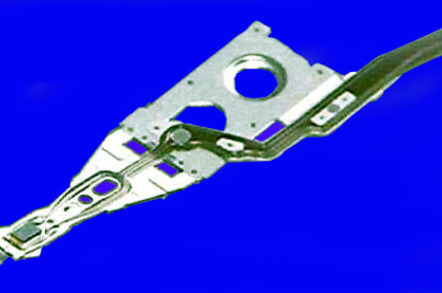 The disk drive industry went bananas in 2013, driven hard by cloud storage and flash, both sending the problems of bulk, nearline data storage disks' way.
The three big HDD tech issues?
SMR technology seems a near-term bust except for big cloud users
Helium drive technology arrived with HGST's 6TB offering
Seagate announced its Ethernet interface Kinetic drives
The 3.5-inch performance disk drive business is perceived of as being finished. Hot data will increasingly come out of flash cells and not off disk. Disks are unrivalled for cheap and fast enough online storage. In the 2.5-inch area there is still a need for fast drives of 10,000 rpm but this may be a short-lived phenomenon.
The general situation is:
Proportionately more bulk data storage will be done in public clouds, with million-plus spindle estates
On-premise data centres will also need bulk, online disk storage, with RAID rebuild time a continuing problem
NAS arrays for small business are booming
Object storage is a feasible technology for scalable, self-healing disk data stores seen through a file access presentation layer
Desktop disk drive sales are falling as tablet computing gets more popular and tablet/notebook/desktop SSD use rises
These trends have resulted in Seagate's Kinetic drives, two vast shingled drive trials, and WD's re-invention of hybrid flash/disk drives. HGST's late 2012 revelation of its Helium-filled drives was followed by a product announcement in the second half of 2013. We have also seen acquisitions by the three disk-drive manufacturers; Seagate-Samsung, WD-HGST, and Toshiba as they diversify into flash and also move up the disk storage stack from their disk drive and consumer/SME 1-8 drive slot array base, heading towards storage arrays.
Helium drive technology
Filling a disk drive enclosure with helium, a much lower friction environment than plain old air, means more platters and heads can be put inside a drive enclosure, thus increasing the drive's capacity. The drive industry had looked at this in the past but helium will leak through the smallest holes and this difficulty had helped prevent the technology become production-ready.
HGST worked out how to hermetically seal the drive effectively, and up to 7 platters can be stuffed inside a traditional 3.5-inch disk drive enclosure. Currently 4-platter 3.5-inchers hold 4TB, 1TB/platter. Thus a 7-platter drive could hold 7TB.
In the event HGST launched a 6-platter, 6TB Ultrastar He6 in November, giving it outright capacity leadership in the 3.5-inch drive space. Seagate is answering this with an anticipated 5TB or 6TB shingled magnetic recording (SMR) media drive early this year. It will, however, have the known SMR drawback of slow data rewrites, where a band of tracks have to be rewritten upstream of a data replacement exercise because of SMR's track overlapping.
It looks like HGST has an edge here.
Small form factor drive action
The drive manufacturers built hybrid and thin 2.5-inch drives for tablet and notebook use, aiming to add cheaper and denser capacity, with flash cache acceleration, and so provide an alternative to more expensive all-flash storage. The provision of 2.5-inch drives as 3.5-inch drive replacements in small form-factor desktops and notebooks also progressed throughout the year.
More extreme 2.5-inch drives came along, such as HGST's 3-platter 1.5TB drive inside a standard 9.5mm-thick 2.5in form factor. Imagine the possible platter counts in helium-filled 2.5inch drives; four platters ought surely to be possible.
Western Digital announced a radically thin single platter 2.5-inch drive, the UltraSlim just 5mm thick.
Seagate dropped its 7,200rpm 2.5-inch drives in favour of 5,400rpm hybrid ones with data access sped by a NAND cache in March, and in June moved its hybrid notebook tech into the enterprise with a 600GB Savvio spinning at 10,000rpm and having a 16GB NAND cache. IBM signed up to use the drive.
Toshiba introduced a single platter 2.5inch hybrid in June, offering 320GB and 500GB capacity in a 7mm thick case.
Vendors catch shingles
In February Seagate said it would ship SMR drives later in the year. It didn't. Instead it revealed in an earnings report in September that it had shipped a million SMR drives to an unrevealed customer or customers. (EVault - see below.)
SMR drives cram tracks closer together by overlapping groups of them, leaving valid read tracks inside the boundaries of the overlapped and wider write tracks. SMR drives can store more data than existing perpendicular magnetic recording (PMR) drive technology drives but data re-writes are much slower, as all affected overlapped tracks have to be sequentially re-written.
SMR drives also seem much more sensitive to vibration, meaning that they either have to be packed less densely in arrays or used in spin-down arrays where the majority of drives are inactive.
Seagate joined the OpenStack Foundation and the Open Compute Project in February "to help foster the growth of cloud storage solutions." Ali Fenn, a senior director at Seagate, said; ""We're not going to open source the internals of [our] drives, but we'll be looking to work with the communities' hardware and software players. We recognise that these are the stacks of the future." For Seagate cloud storage of data is becoming on of the most important technology direction drivers.
Towards the end of the year we saw one of the fruits of this when Seagate's EVault cloud backup subsidiary announced in December its Long-Term Storage Service (LTS2) for storing archival data on spun-down disk in the EVault cloud. We suspect this service uses Seagate's SMR drives but nobody is saying.
After having talked about SMR technology in June, WD revealed that Facebook is trialling its SMR drives for storing photos in an online disk archive, with faster photo access than tape can provide. This is Facebook's cold storage idea.
So the net of it is that both Seagate and WD have shipped around a million SMR drives each to low numbers of customers and have not made SMR drives generally available, despite their seeming lower cost/GB. Why is that?
We surmise two things; re-write performance is dreadful and vibration is a killer. These prevent the drives being suitable for general enterprise and SME use, maybe for a good few months yet and maybe even forever, since alternative drive capacity-increasing technologies, such as helium-filling and HAMR (Heat-Assisted Magnetic Recording) are here or close and will render SMR drives redundant except for the specific online disk archive with fast data access applications exemplified by Facebook's use of the tech for storing old photos and EVault's faster than (tape-based) Amazon's Glacier cloud archive at retrieving data.
HAMR drives are still in the pre-announcement phase with WD's CEO giving a presentation off a prototype HAMR drive in November, more or less a year after Seagate's CEO pulled the same trick. Still no product though.