Display tech based on EYEBALLS could reduce teens' mobe-fiddling
And reduce mobes' own juice-slurping tendencies - company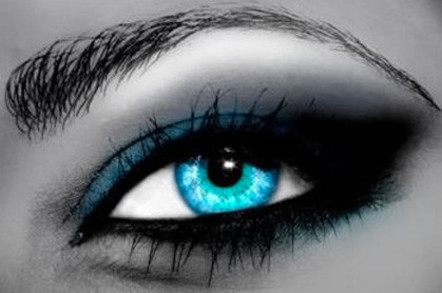 Kids just can't help fiddling with the brightness and contrast on their smartphones. That's the result of the latest survey carried out by pollmeisters Ipsos MORI.
According to the poll, the main reason behind two-thirds of 15 to 24-year-olds wanting to change the settings is to improve the picture quality on their devices – and to save battery life.
This is, no doubt, just what image processing firm Apical wanted to hear. The company (which commissioned the survey) makes a combination of firmware and hardware which improves both camera and display performance while using less power.
Based in Loughborough, their team consists of biologists and developers, respectively specialising in the human eye and visual interfaces. They have modelled the human retina as a digital signal processor and used the resulting technology to produce display and camera systems. By understanding how we see things, they modify the display to be optimal for viewing conditions.
Phones typically have a light sensor which ramps the backlight up and down based on the ambient light conditions. This is a limited solution, however, as daylight can be fifty times brighter than indoor lighting. The human eye copes with this well; transmissive technologies like LCD and OLED can't.
Apical's technology counters this by modifying the image, pixel by pixel, based on the ambient light, the direction of the light and the estimated viewing angle. By increasing the contrast with this "assertive" display they can keep the image on your device readable as you move from indoors to outdoors.
Under darker conditions Apical can ramp the power down without losing detail to produce an image which is comfortable to watch. All this can be done without getting into a battle between the sun and backlight, thus improving battery life.
The hardware ideally sits in the applications processor or in the display controller of a mobile device. It has been licensed to a number of manufacturers including Qualcomm, which has combined it with its Mirasol display technology. It's also used by Nokia, who have it in its Lumia 1520.
Apical is looking to improve its assertive display tech by asking content providers to bake Apical compatibility into their apps; in particular, how in-app objects are lit. While simple games like Bejewelled work well as you move from dark to bright conditions, immersive games such as first-person shooters are more subtle. To this end it has just launched an SDK, particularly aimed at games middleware vendors but open to all game developers and video companies.
Along with the display technology there is a camera component also modelled on the retina tech. This includes a system which takes eight images in a half-second burst to distinguish between detail in a picture and visual noise. Less noisy images compress better and are a more efficient use of storage and bandwidth.
It remains to be seen, however, whether the Apical technology will reduce the amount of kids fiddling with the settings on their smartphones. Maybe they just enjoy the tinkering? ®
Sponsored: How to get more from MicroStrategy by optimising your data stack