Apple hires medical techies, raises spectre of iStuff slurping data direct from your bloodstream
An Apple a day keeps the doctor awayon your wrist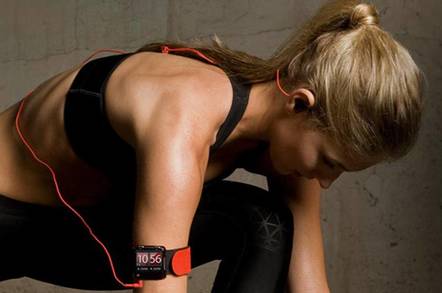 Apple has hired two new faces from the medical tech world as it steps up its drive to develop wearable iThings.
The fruity firm poached Nancy Dougherty from startup Sano Intelligence, which is developing a patch sensor which can painlessly monitor the chemical makeup of a patient's bloodstream. This would be useful for diabetics, because it would allow them to measure blood glucose levels without needing to use a needle.
Dougherty also worked on the development of a "Bluetooth-enabled electronic Band-Aid" that monitors heart rate, respiration, motion, and temperature. It also detects "smart pills" that are swallowed and then activated when they reach the stomach.
Cupertino also snaffled Ravi Narasimhan from Vital Connect, which makes a wearable biosensor which can monitor heartbeat, skin temperature, posture and activity levels.
According to his LinkedIn profile, he has been responsible for filing 15 patents and four publications on biomedical algorithms.
Before getting involved in developing biosensors, he worked on developing next-gen WiFi at Quantenna Communications .
What this all means is that Apple is not only interested in getting fanbois to wear iWatches - it wants to scan their bodies at the same time.
Fitness tech is becoming a huge industry, with all manner of products released to monitor your performance during sporting activies. Even Rupert Murdoch wears a Jawbone Up to monitor his health and activity levels.
Apple is almost certain to be working on the development of an iWatch, with the latest hires pointing to the possibility that it might do more than just receive text messages and play MP3 files. ®
Sponsored: Becoming a Pragmatic Security Leader