Foot-loving cat burglar nicks THREE THOUSAND individual socks
Kitty criminal blamed for purr-verted crime wave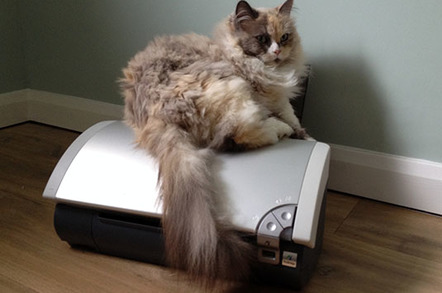 A real life cat burglar has been implicated in the theft of up to 3,000 individual socks – and a full set of women's underwear.
Oscar, a Mandalay cat, has spent the past few years stealing at least one sock a day from clotheslines around Herne Bay, a suburb of Auckland, New Zealand.
According to Paul Wai-Poi, the cat's owner, Oscar has a foot fetish as well as a predilection for women's scanties. These dual perversions have already caused Wai-Poi some embarrassment.
"He brought back a bra and panties," Wai-Poi recalled. "The bra got hooked up on the fence and the next door neighbor saw it. I said: it's not my wife's."
The cat is now notorious around Herne Bay, where he has been responsible for thousands of lost socks.
"In the morning there are either socks on the steps or on the landing, or just out here or he's dropped them next door," Wai-Poi continued.
Speaking to a local radio station, "cat expert" Deborah Aicken revealed the reason for Oscar's sock-cess.
"These cats love the smell of feet," she said. "So if I took my shoes off around the cats they would all come and roll in them and steal the shoes." ®
Sponsored: How to get more from MicroStrategy by optimising your data stack