Nearly 1 in 5 of UK's Xmas gifts were bought online... not that it helped
Blighty's retail sales grew measly 0.4%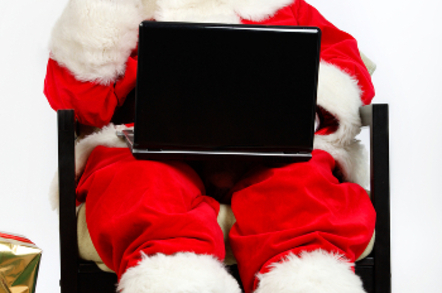 A record number of Blighty's shoppers were browsing and buying online for Christmas, but their frenzied clicking wasn't enough to lift total retail sales by even a single per cent, the British Retail Consortium said.
According to a BRC and KPMG survey, nearly one in five of all retail stuff bought was picked up from the comfort of British couches last month as online sales grew by 19.2 per cent from the same month in 2012. But retail sales overall were pretty poor, only rising 0.4 per cent on a like-for-like basis from December last year.
"This is a respectable result overall, in line with our prediction that Christmas trading in 2013 would reflect that while confidence levels were higher than the previous year, this wasn't always matched by more money in pockets," the BRC's director general Helen Dickinson said. "The last-minute rush also arrived as expected, giving a major boost to sales in the final few days before Christmas after a fairly flat showing mid-month."
Non-grocery items were the fastest-growing category throughout the month and contributed the most to sales. Within that sector, toys and electronics were big over the holiday period, while practical gifts like bedroom furniture, kids' clothes and kitchen appliances were also popular.
"With budgets still under pressure, many shoppers economised where they could to afford a little luxury here and there," Dickinson added.
One of the key things that marked retailers out were those using multiple ways to get stuff into people's hands, like click and collect for those with both online and bricks-and-mortar shops. Shops that don't spend the New Year investing in these kinds of options are likely to lose out in the future, Dickinson warned.
"For consumers, paying for Christmas will be the first priority of 2014; until wage growth outpaces inflation many households will remain confined to a tight budget for the foreseeable future," she said.
Some of the UK's biggest stores had a tough Christmas this year, between a lack of economic recovery in people's pockets and the continued demand for online shopping. Grocery chain Morrisons said its lack of online presence hit sales, contributing to a 5.6 per cent drop in like-for-like sales up to January 5. The chain is in the middle of setting up internet shopping in a deal with online grocery shop Ocado to use its IT and distribution systems.
Tesco sales were also down 2.4 per cent as it and Morrisons were hit by competition from economy shops like Aldi and Lidl.
Heavy discounts in December hurt margins at high street shops like Debenhams and Marks and Spencer. M&S general merchandise sales, which is mostly clothes, dropped 2.1 per cent in the 13 weeks to 28 December, a fall it blamed on unseasonal weather and a "highly promotional market". Department store Debenhams issued a profit warning for the six months to April this year, which it also claimed on the sales before Christmas.
"December 2013 was all about nerve, margin and multi-channel," said David McCorquodale, head of retail at KPMG.
"After competitive campaigns run by the major retailers, those retailers who held their nerve and provided a seamless service between channels will feel pleased, whilst those who discounted heavily to force sales will count the cost in margin." ®
Sponsored: Quit your addiction to storage