Connecting Gmail to Google+ is SENSELESS, says Digg founder
Kevin Rose and short-lived Google Plus man hits Mountain View's panic BUZZer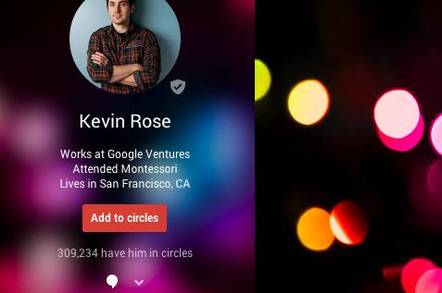 Google's latest hardheaded strategy to link its "network thingy" Google+ to Gmail accounts makes zero sense.
That's the verdict of Digg founder Kevin Rose, who might be a more reliable source than most when it comes to slinging criticism at Mountain View, given that he was temporarily drafted in as a part of the Google+ development team in 2012.
As we reported on Thursday, Google's shameless effort to marry its free content ad network with its email service means over the next few days "anyone on Google+" can email a Gmail user via their Plus account by default.
But Rose said he was baffled by the move, tweeting: "(my opinion) If Google+ users need to communicate build an internal messaging tool, connecting gmail doesn't make any sense...".
The shleb entrepreneur and serial Web 2.0 investor, who is a partner at Google Ventures, added that the company was mistaken in thinking it could cut and shut its products together into one all-conquering mass wrapped in ad goo.
Rose argued that Google should have considered what Facebook had done specifically with its messaging service.
"Unification leads to bloat, if anything they should be cutting features from g+. Notice how fb made messenger independent," he tweeted. "This feature doesn't add any value except to try and force gmail users into google+," he added.
Others have also complained about the shift by comparing Google's latest decision to spookily similar strategies it adopted for Buzz - which was quickly killed after a flaccid privacy howler exposed the ad giant to huge levels of criticism that ended in Mountain View agreeing to regular consumer watchdog audits of its data handling abilities for the next 20 years.
Agreeably, Google has somewhat learned from its mistakes. Although it does stealthily opt-in its users to be emailed via Google+ by "anyone" on the network, there is a setting to change it to "no one".
Our advice: if you truly want to keep your Gmail account separate from Google+ - at least for now - then you should zombify it by deleting your profile. Google calls its a "downgrade"; we think it's common sense. ®
Sponsored: Detecting cyber attacks as a small to medium business