New FCC headman brandishes net neutrality carrot and stick
Tom Wheeler: Freedom fosters innovation... but don't 'SCREW UP the internet'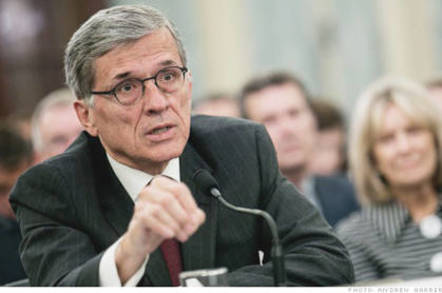 CES 2014 Emulating the middle-of-the-road manner of the president who appointed him, new US Federal Communications Commission (FCC) chairman Tom Wheeler says that under his direction the Commission will take a hands-off approach to regulation, but will be poised to intervene when it sees telecom corporations acting against the best interests of the internet.
"We're strong supporters, as I've said before, of the open internet," he said in a one-to-one conversation with CEA headman Gary Shapiro at CES in Las Vegas on Wednesday.
"The open internet order was drafted in a way that encouraged innovation," he said. "It recognized the difference between wireless and wireline, and also said, 'But! You won't screw up the operation of the internet. You won't act in uncompetitive, anti-competitive ways. And you won't act in preferential ways'."
From Wheeler's point of view, the FCC's role is not to set up comprehensive guidelines about how networks should be created, managed, and monetized, but rather to allow the market to do its thing while at the same time keeping a sharp eye on the players in that market and slap them back into shape when they get out of line.
This approach is a different one that the FCC took just a few decades ago, he said. "The old regulatory model was, 'We pretty much know where things are going. There were a few hothouse places like Bell Labs that produce advancements. We can track those and we will figure out how we're going to fit those into policy.' It was a very proscriptive kind of a structure."
The rapid changes brought about by the move from analog to digital communication, the rise of the internet, and the rapidly changing marketplace require a new way of managing regulations, Wheeler said.
"Change is happening so fast that even the wisest and best-intentioned people can't sit around and be proscriptive," he said. "But what we can do is say that we want to have an environment that encourages innovation and holds true to a set of values, and maintains authority to deal with the protection of those values."
The vagueness of those "values" might bring a smile to the face of an anti-regulatory industry player, but Wheeler insists that he won't preside over an industry ruled by mere Darwinian capitalism.
"This is not a laissez-faire, back-off kind of a thing," he insisted. "But it is a 'How do we allow for the technology to be nimble, the market to be nimble?'," he said. "And that demands us to be nimble, as well."
LTE? Oh just do whatever
As an example of the new regulatory attitude, Wheeler said that the reason that the US is the world leader in rolling out LTE is because the government didn't lay out a comprehensive LTE plan and then require the private sector to adhere to it.
He spoke of the "holy wars" that were going on during the early days of wireless broadband as to which standard should be used. "But it is the fact that the government and the FCC in its wisdom allowed the marketplace to make that decision that created the environment that drove LTE and made us the world leader in deploying LTE."
But the FCC won't be an industry lapdog, he insists. "The open internet order makes it clear that if there are untoward things impacting access to the network, innovation – there are a whole list of things that are in the order – then the Commission should move."
When his FCC sees anticompetitive activities, he said, "Make no mistake. We're ready, willing, and have the capacity and the legal jurisdiction to intervene."
Specifically when it would intervene, Wheeler was not saying, preferring instead to emphasize that FCC actions would be studied and decided upon on a case-by-case basis.
"My attitude is, 'Let's take a look at what this is. Lets take a look at how it operates'," he said. "And be sure that if it interferes with the operation of the internet, that if it develops into an anti-competitive practice, that if it does have some kind of preferential treatment activities in there, then that is cause for us to move."
Shapiro asked Wheeler if it weren't the case that a lack up surety in the regulatory framework actually scared off innovators rather than providing them with the security they need to invest time and resources. Wheeler wasn't buying it.
"I dont think that's been the track record thus far, has it? "Let's just see," he said. "We're pro-innovation, we're pro-competition, and we want to protect both." he said.
Wheeler gave as and example a board game in which every type of move is laid out in the rules. That type of rules enforcement might provide more security to the players – companies – but in his opinion such rigidity stifles innovation.
"We want to be encouraging innovation," he said, offering the industry a carrot – but he quickly picked up the corresponding stick. "But we want to be encouraging innovation with the full capability and legal authority to intervene in those circumstances where there are untoward impacts on competition and consumers. And we will do that." ®
Sponsored: Webcast: Build the next generation of your business in the public cloud