Orbital Sciences' Cygnus resupply truck blasts off to the Space Station
Private resupply mission leaves Earth shortly after 1307 EST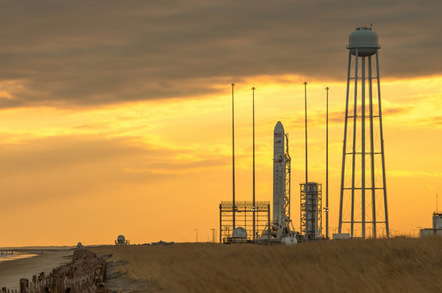 Updated Private space biz Orbital Sciences Corporation has successfully launched its Cygnus space truck to resupply the International Space Station.
The craft blasted off at 1307 EST (1007 PST, 1807 GMT), from NASA's Wallops Flight Facility in Virginia, US. Minutes later Cygnus separated from its rocket as it reached orbit, and opened its twin set of solar panels for power. You can replay the Orbital-1 launch in the video stream below:
The Cygnus space-mule - which is carrying 1,260kg of supplies and science experiments - was launched by an Antares rocket, which is a two-stage, low-cost vehicle.
An earlier attempt to put the stack into space this week had to be delayed as a solar flux peppered Earth with an unexpectedly high level of radiation capable of damaging the craft during its launch to the orbiting platform.
Over the next three days, smaller onboard rockets will be fired to maneuver Cygnus into position for docking with the Space Station at 0602 EST on Sunday.
NASA now has two private operators capable of shipping gear to the International Space Station. SpaceX's Dragon capsule is already helping to keep the orbiting outpost stocked. ®
Sponsored: Your Guide to Becoming Truly Data-Driven with Unrivalled Data Analytics Performance